Lee Davy sits down with the professional poker player, and affiliate manager, for the Bitcoin only online poker site: Seals with Clubs, to learn more about the Bitcoin industry.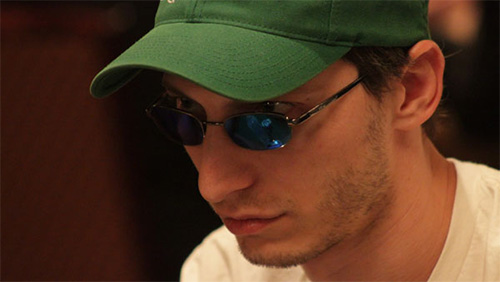 Do you remember how scary it was to make an online financial transaction to play online poker?
Too far back in time?
Well what about making an online financial transaction, on your mobile phone, to play online poker, place a bet or buy a Didgeridoo?
Sometimes, placing your finances in the banks of the unknown can be as welcoming as placing your old boy into a hole in a tree.
So spare a thought for the bold and the brave in the Bitcoin market. The pioneers who are wading into territory that has a shoeless sheen. The minds of the people behind Seals with Clubs.
We're not talking about a Scandinavian animal rights outfit here. We are talking about the largest Bitcoin only online poker site in the world, and when I bumped into their pro, Bryan Micon, I was eager to alleviate my concerns.
"The Seals with Clubs project started in 2011, Micon tells me before continuing, "A group of poker players, put out of work by Black Friday, started banging their heads together and hiring programmers to try and make a Bitcoin poker site.
"I came along a little later and said hey do you need a pro to help you market, help do the tournament structures and bring the online poker knowledge that I had. Multi-tabling online tournaments for the past 10-years means I know what people want. So I bring that component to the team.
"20 million plus hands of Bitcoin online poker later and we are still here. One of our biggest distinctions is we are the oldest centralized Bitcoin site of any sort, gambling or not, that has not been hacked, and we also send every cash out within 12 hours, which is something totally different in the industry.
"CalvinAyre has done some good reporting on a lot of the really bad sites that have been bad players in the industry. Seals with Clubs come from a totally altruistic player's perspective, and I think you will find that we run a very transparent operation. We are as player friendly as we can be, reduce the rake as much as we can and you get your money out in 12hrs.
"It's changing the game. Bitcoin makes worldwide poker possible again. If you have never heard of the currency Bitcoin then Google it. It's an insanely complex idea, but the nerds have been using it since 2009, and have been building layers on top of it to make it easier to use. There are tons of ways to exchange your local Fiat currency to Bitcoin and back again.
"I think it will change many industries, with online poker being one of them; and Seals with Clubs is one of the biggest sites."
So how have Seals with Clubs never been hacked? What is it that they are doing so right?
"Seal Team Six is the development team that is solely responsible for Bitcoin and because they are so good we have not been compromised. It's the first time in history that the data is money. The Bitcoin is money. It's not like a bank account or a credit card.  It's the money. If you steal the data you steal the money. No calling the bank to get it back if it's gone. If it's gone – it's gone.
"We are first and foremost very security conscious about our Bitcoin and everything else is secondary. This means we have to go slow. So I'm sorry we don't have mixed game yet, but the coins are safe and we get your cash outs out in 12hrs. We have Seal Team Six to thanks for that."
I have never used Bitcoin before.
How do I start?
"If you want to start playing you need Bitcoin. If I was sitting in the Rio right now, like you are, I would go down to the D in Downtown Las Vegas and use the Bitcoin ATM to change your fiat currency to Bitcoin. It looks exactly the same as a normal ATM machine and is called Robocoin.
"Then there is Coinbase, which is the biggest American Bitcoin exchange, and you can link a checking account to it, and do it right from your house.
"The third and last option I will give you is the Mycelium wallet. This has become really popular, and has a local feature where it finds other people who have Mycelium wallets close to you, and you can exchange Bitcoin with them. People like that sort of anonymity.
"But you don't actually need a wallet. You don't need to hold your coins anywhere. Coins actually live in the block chain. There is a giant distributed database called the block chain, which holds every address; where every Bitcoin has been since the beginning; where it went to and where it is now.
"You can open an account with Coinbase and you have your Seals with Club deposit address, and you could withdraw the coins from Coinbase right to your Seals with Clubs deposit address, and you wouldn't need a wallet. That transaction would only be in the block chain and you wouldn't touch the coins. They just move between accounts.
"The options are growing at an astonishing rate. If you have a huge amount of Bitcoin, for whatever reason, then you have Second Market who are a group of investors that have a $25k+ to buy or sell minima. A ballers only Bitcoin exchange for the larger transactions, so maybe people may want to look into that if they are operating at those levels."
I have learned a lot since I started talking with Bryan, but I am still scared to change. I wonder how problematic this is for the burgeoning Bitcoin industry?
"Yes, it's scary, and it's new, and the barrier to entry is understanding it. I encourage people to use Google and ask questions. I asked so many questions whilst investigating Bitcoin, and started to see the beauty of it and realized it could work. Without that understanding it will seem scary. It requires effort to learn about it, and a lot of people don't put in that effort.
"The confidence comes with time. I have been wearing a Seals with Clubs patch at the WSOP for three years. In the first year they didn't know what the fuck I was talking about, the second year people were interested in the increase in price since I spoke to them the previous year and this year they are people who have played it, or they have a friend who has played and they want to learn more, or they want to hold some in investments.
"We hope to do online poker totally right, and wholly with Bitcoin."
Taxi…take me to the D!