The two Liu's triumph at the PokerStars.net APPT Macau, as Jiajun Liu takes down the Main Event for HK$2,776,000, and JJ Liu does likewise in the High Roller for $HK1,420,000.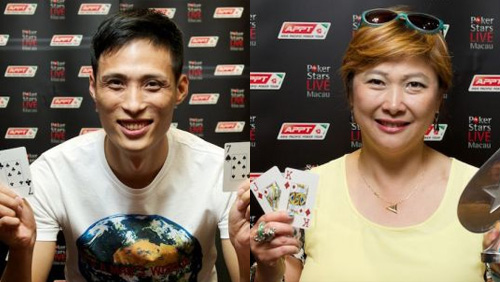 It's a case of Liu's all-round as Jiajun and JJ take the top honors at the PokerStars.net Asian Pacific Poker Tour (APPT) in Macau.
First the Daddy of them all – the Main Event – and for the second year running we had a Chinese champion as Jiajun Liu overcame 494-players to take that the title and HK$2,776,000 ($358,000) first prize.
Here is the run down of the action: Speedy Gonzalez style.
The first player to head out of the door, marked 'Exit,' was Sailesh Verma, and it took less than a single orbit to occur. Verma moved all-in, holding pocket jacks, found a caller in the shape of Thomas McGarrity, holding [Ad] [8d], and an ace on the flop sounded the death knell.
Next we saw Yat Wai Cheng move all-in, holding [Kh] [7s]; Cyril Andre calling, holding [Ad] [8h], and once again the hand with the ace held strong. Jean-Marie Peyron tried to keep the 'ace-high' hand momentum going when he moved all-in, with the pretty looking [Ac] [Tc], but ran into the brick wall of Billy Argyros and his pocket tens.
Carlos Kuo Chang found pocket nines, moved all-in, and was left gutted when he saw Andre table pocket queens; and he made it two eliminations on the trot when he picked up pocket tens to end the tournament life of Yen Han Chen and his [As] [6c].
The Scot, Thomas McGarrity, exited in a cooler against Argyros (AK<AA); before Argyros himself exited stage left when his flush draw remained just that against the pocket aces of Andre.
That left Liu and the Frenchman Cyril Andre to battle for the title, and it was China that came out ahead, albeit in a dramatic final hand. Andre moving all-in, holding [Qs] [8h], and Liu calling with pocket sevens. Two queens on the flop handing Andre trips, but a seven on the turn handing Liu a boat; all the chips; the lion share of the cash and a spanking new trophy.
Final Table Standings
1st. Jiajun Liu – $HK2,776,000
2nd. Cyril Andre – $HK1,693,000
3rd. Billy Argyros – HK$940,000
4th. Thomas McGarrity – HK$737,000
5th. Yen Han Chen – $HK575,000
6th. Carlos Kuo Chang – $HK464,000
7th. Jean-Marie Peyron – $HK355,000
8th. Yat Wai Cheng – $HK273,000
9th. Sailesh Verma – $HK198,140
JJ Liu wins the 2014 PokerStars.net APPT Macau High Roller for HK$1,420,000 ($183,147)

JJ Liu inched closer to $3m in live tournament earnings after securing victory in the APPT8 High Roller.
Liu struck a three way deal with Quan Zhou and Chen Wang, before wrapping up the title and $HK1,420,000 ($183,147) in prize money, after a on hour heads-up battle against Zhou.
Final Table Standings
1st. JJ Liu – $HK1,420,000
2nd. Quan Zhou – $HK1,275,000
3rd. Chen Wang – $HK1,078,000
4th. Rui Cao – $HK610,000
5th. Magnus Karlsson – $HK444,000
6th. Huidong Gu – $HK388,000
7th. Zongyoa Zhang – $HK333,950
The next stop on the APPT will take place in Manila, Philippines at the Metro Card Club from July 2-7.
Comments