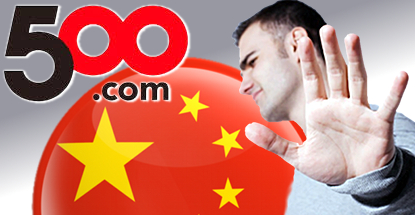 Shenzhen-based online sports lottery operator 500.com saw revenue more than double in Q1 as lottery sales and active user numbers surged. Revenue rose 127.3% year-on-year to RMB 89.8m (US $14.4m) as ticket sales rose 95.4% to RMB 1.05b ($169m). Net income hit RMB 27.5m ($4.4m) compared to a RMB 3.6m loss in Q1 2013. The company attributes the stellar results to increased marketing efforts, which boosted the number of active users to 1.14m, up 28% over Q4 2013.
On a post-earnings conference call, 500.com founder/chairman/CEO Man Saw Law told analysts that mobile betting accounted for 26% of total sales in Q1. With the FIFA World Cup set to kick off in June, the company expects sales of between RMB 1.33b and RMB 1.38b in Q2, up around 28% sequentially and 94% year-on-year. The World Cup-focused marketing campaign will include "interactive games" to help attract and retain players.
Despite the appealing report card, 500.com stocks fell nearly 20% on Wednesday after investors learned of reports allegedly issued by the China Sports Lottery Administration Center (SLAC) saying it hadn't authorized any sports lottery websites. 500.com received permission to operate its online lottery in October 2012 as part of a pilot program, but the reports suggested the company was operating in China without a license.
In a bid to quell investor panic, 500.com issued a notice on Thursday saying it "fervently denies the allegations made in unsubstantiated rumors" about its Chinese operations. The company insisted it had "obtained all relevant approvals to legitimately operate" in China and provided a link demonstrating the thumbs-up from the Ministry of Finance, which oversees SLAC operations. The company also provided a link to a report by the Xinhua media outlet in which the Ministry of Finance confirmed the legality of online lottery sales despite having never issued any "licenses' to lottery providers.
Total lottery sales in China rose 18.3% to RMB 309b last year and that growth rate has held steady in the first quarter of 2014. Investment bank Piper Jaffray has projected online sports lottery sales will double in value over the next couple years.