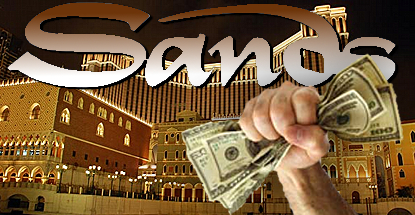 Casino operator Las Vegas Sands' profits rose by over a third in Q1 thanks to an equally powerful performance over the same period in the overall Macau gambling market. Sands, which operates casinos in Macau, Singapore, Las Vegas and Pennsylvania, saw revenue rise 21.4% to a record $4.01b in the first three months of 2014. Adjusted earnings rose 26.8% to $1.48b and profit topped $776.2m or 95¢ per share (97¢ excluding one-time items), also a new company record.
Sands boss Sheldon 'Yay, Dividends' Adelson credited the strong showing to the Asian propensity to "challenge luck," something he said has been going on "from the time of Confucius" (a man the 81-year-old Adelson felt the need to point out he'd never met). Even better, Adelson suggested that "nothing, though thick or thin, tall or short, slim or fat" has proven capable of stopping Asia's teeming masses from challenging luck, "and I don't think anything will."
The good times allowed Sands to repurchase around $810m of common stock from shareholders during the quarter but Adelson illustrated the confidence he feels in Sands' golden future by noting that he hasn't sold any of his Sands shares in eight years.
MASS KICKING ASS IN MACAU
Sands China was (as ever) the star performer in the LVS portfolio, reporting $2.7b in revenue (+35%). The Venetian Macao led the charge with $1.075b in gaming revenue (+38%), followed by Sands Cotai Central at $750m (+40.6%), Four Seasons Macao with $340.2m (+65%) and Sands Macao at $306.6m (+1.4%).
Sands' Macau VIP gaming win rose 18.2% to $1.45b, while slots and electronic table games (ETG) win rose 23.8% to a record $184.3m. Sands' mass table win grew 54.2% to $1.34b, another record sum and 40% higher than the gains experienced by the overall Macau market. (Graphic evidence of Sands mass market dominance can be seen at the bottom of this article.) Sands averaged 1,124 mass tables in Q1, 19.1% higher than last year, while the number of VIP tables fell 20.8% to 410.
While VIP rolling chip volume continues to vastly outpace mass market table drop, mass market gaming was up 81% at the Venetian vs. a 31% gain in VIP numbers. Same thing at Sands Cotai, where mass was up 74% compared to a 40.6% VIP gain. Meanwhile, the Four Seasons reported mass up over 218% while VIP volume fell 3%. Same thing at Sands Macao, where mass gained 43% while VIP fell 15.7%.
Singapore's Marina Bay Sands (MBS) reported adjusted earnings up 9.7% to $435.2m, with a 0.9 point gain in VIP win offsetting a 29% decline in rolling chip volume. Mass table drop also fell 3% while slots handle gained 9.5% to $3b. MBS enjoyed a 99.3% occupancy rate despite room rates rising 13% to $428.
STATESIDE
Given Sands' Asian focus, it's probably no surprise that not one question on Sands' post-earnings call with analysts was about the company's stateside operations. Sands' two properties on the Las Vegas Strip reported revenue down 7% to $382.7m. Gaming revenue fell 31% to $109.8m as baccarat whales went on a hot streak, pushing the table game win rate down 10.5 points to 17.1%. Slots handle also fell 4.4%. In Pennsylvania, revenue at the possibly for sale Sands Bethlehem fell 4.6% to $117.2m thanks to a 5% fall in gaming revenue, largely the result of a 8.3% decline in slots handle.