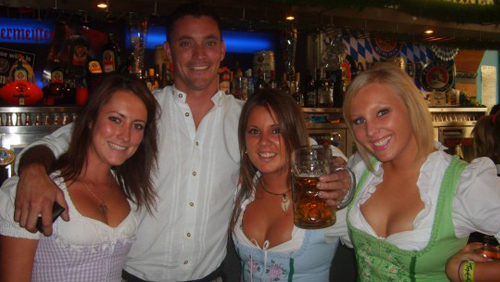 SBC Events is putting on their very first Betting on Football Conference and Awards on May 8th in London. This one day event has been organized with care by SBC and its intent is to provide a casual environment for betting professionals to learn, network and enjoy.
To hear more about the distinctive features of this event, I spoke with Andrew McCarron, Managing Director of SBC and primary organizer of this conference.
Becky Liggero: Thanks for joining me, Andrew. With so many conferences taking place throughout the year, what makes the Betting on Football event unique from the rest?
Andrew McCarron: Well for a start we are the only one exclusively dealing with the betting side of things. Despite the congested events timetable, there is nothing solely for the bookmakers. Given that it is probably the most complicated sector, we at Sports Betting Community thought that perhaps there was scope for a bit more focus on betting. And as football is the main driver for betting at the moment, it seemed an obvious combination.
BL: Who are some of the big name speakers that you will be hosting?
AM: We've just announced talkSPORT MD Calum Macaulay as one of our key speakers. He's got a really good insight about how to align brands with football given the talkSPORT is the world's biggest sports radio station and Global Audio Partner of the Premier League.
Personally I am also looking forward to hearing Mark Davies (former Betfair) and Rob Hartnett (former Betdaq) share their views. Both are excellent speakers and have great knowledge of both sides of the business. With regulations in a state of flux at the moment regarding online gambling licensing, and therefore advertising, David Clifton's update on the state of play will probably be the most important session of the day.
BL: Yes, I'm looking forward to that one too. Chelsea FC is a pretty cool place to hold this event- can you explain the significance of the venue you've chosen?
AM: We wanted a venue that underlines the football theme and Stamford Bridge is probably the most accessible ground in London given that it practically sits on Fulham Broadway Tube. It's a well established conference venue and has hosted some gambling industry events in the past. It also gave us some delicious options for the evening Awards do.
BL: Delicious options, eh? So what can we expect for the Awards do?
AM: Something…different. It's in a German theme bar, with German bar staff, German beers, German food and, best of all, a German brass band. It'll be quite an event. There's also less emphasis on the awards, given we only have a handful, and more on having a good time.
BL: I love it. Why have you decided to put on a more casual awards as opposed to selling tables and having a more formal affair?
AM: Award nights can be a drag. You've got to be sat there, dressed up to the nines as a seeming endless conveyor belt of awards are handed out with barely anyone paying attention. Anyone who has attended one of our SBC Socials knows our networking events are informal and fun and we wanted to bring some of that experience to this Awards night.
BL: I agree with you there, great decision. Do you have anything else to add about the Betting on Football event?
AM: Voting should start this week for the Betting on Football Awards. Votes can be placed online. Also a big thank you to our sponsors for both events so far – BetConstruct, Super Soccer Oddsfeed/Abelson Info, Colossus Bets, MC&C, Matchbook, bettingexpert, Oddslife and EveryMatrix.
BL: Thank you very much Andrew, looking forward to seeing you on the 8th!