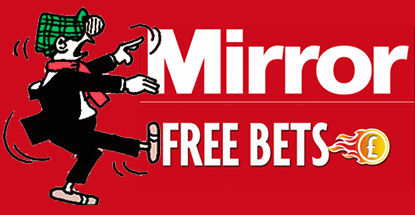 Just in time for the Grand National, UK newspaper the Daily Mirror has teamed up with the Racing Post to launch Mirror Free Bets, a betting affiliate site primarily focused on horseracing. The site has teamed with the UK's leading bookmakers to collect the best free bet offers available and provides punters with a one-stop shop for comparing freebies. In addition to horseracing, the site also lists free offers from sportsbooks, poker, casino and bingo sites.
Other features include live updates indicating how the market is leaning on any particular wager, as well as a results page and betting suggestions from the site's resident tipster, the classic cartoon character Andy Capp. Some observers might suggest it's bad form to take any kind of advice from an unemployed alcoholic wife-beater, but hey, to each his own.
The Mirror's move mirrors that of competitors The Guardian and The Sun, both of which have launched full-fledged sports betting sites over the past couple months. However, Trinity Mirror head of syndication and licensing Fergus McKenna told eGaming Review that the paper had "no plans to become a bookmaker ourselves." Mckenna said racing was "hugely popular" with Mirror readers and thus it had "ambitions to develop more on the racing front online and via mobile as our audience in this space continues to grow."
It seems you're nobody in a UK newsagent's unless you've got some form of online betting partnership. All of which makes us wonder when the reliably anti-gambling Daily Mail will swallow its pride and strike a deal with some online bookie. Of course, given the Mail's virulent campaign against fixed-odds betting terminals – an article on Saturday (pictured) referred to the machines as "the crack cocaine of gambling" twice in three paragraphs – the Mail's partner can't have a high street presence. That would seem to make Bet365 an ideal candidate, except the company's founders are ardent supporters of the Labour party and the Mail believes the Tories can do no wrong. Damn… Arranged marriages are hard.
Comments