Tom 'hitthehole' Middleton continues his tremendous run of success after defeating a tough final table to capture the first prize in the $2,100 WCOOP Main Event Challenge Series Finale.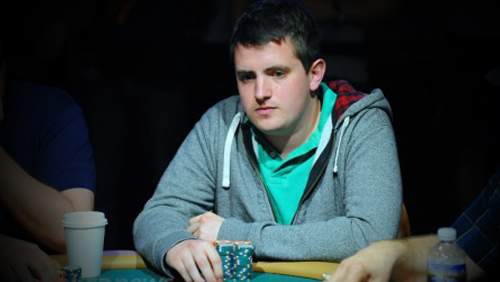 If you are looking for stars that will sparkle at this years World Series of Poker (WSOP) then look no further than the man known as Middy.
Widely recognized, by his peers, as one of the best players in Europe. Tom Middleton has been on a roll of Indiana Jones boulder style proportions after taking down the European Poker Tour (EPT) Main Event in London for $1.26m back in September.
Since that groundbreaking victory, Middleton has taken $72,000 from a WCOOP final table placing, as well as winning the Sunday 500 for $89,000, and he has just picked up another monster after securing victory in the $2,100 WCOOP Main Event Challenge Series Finale.
Not only did Middleton have to fight through a final table that contained the likes of David "Bakes" Baker and Bryn Kenney, but to get their he had to fight  his way through 1,624 players in a very pro heavy field.
Making very deep runs in the event were the likes of Anthony Gregg (77th), Mick Graydon (72nd), Angel Guillen (44th), Andrew Hulme (26th) and Maria Ho (15th); but all eyes were on Middleton, Kenney and Baker.
Kenney started the final table third in chips, but as it transpired he would be the first out of the door after his pocket tens didn't fair too well against the pocket kings of the man with the ridiculously long and stupid name – bboooommmmmm.
That left Kenney with around 15bb and they went into the mixer holding [Ks] [Qc] and Ventox called holding [Ah] [5s] and the best hand held.
Baker would leave in sixth place after he open shoved from the small blind holding [Ah] [2h] and was called by Middleton holding pocket sevens. The board did throw up a flush draw but Middleton's luck held and he was soon heads-up against the Boomster for the title.
The death knell sounded after the pair went a little raise crazy on a board of [Jd] [8s] [3h]. The turn produced the [Th] and the money went in the middle with Middleton holding [Kc] [Jh] for top pair, and the Boomster behind with [Ad] [Td]. The [Qh] completed the board and Middleton took a commanding chip lead and ended the tournament in the very next hand when his [5s] [2h] out flopped the [9h] [3h] to take the $500,000 first prize and $5,200 seat in the WCOOP Main Event.
Final Table Standings
1. Tom "hitthehole" Middleton (United Kingdom) $500,000*
2. bboooommmmmm (Israel) $422,594*
3. Stella948 (Australia) $292,320
4. somnium89 (Ukraine) $217,616
5. ventox (Norway) $154,280
6. David "WhooooKidd" Baker (Mexico) $121,800
7. Ben "ShankingYou" Palmer (Costa Rica) $89,320
8. jbrown8777 (Canada) $56,840
9. Bryn "BrynKenney" Kenney (Canada) $32,480
* Indicates a two way deal
Comments