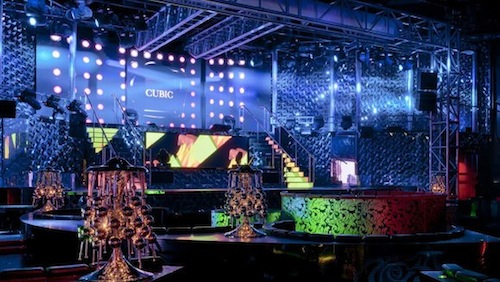 Macau is considered the gambling capital of the world for a reason. That much we all know. But if you enjoy more than just the gambling aspect of a night's worth of revelry in Macau, the city can offer you a treasure trove of other entertainment options, not the least of which is a choice of some of the most exclusive night spots in the city.
No club-hopping excursion in Macau is complete without entering the biggest club in the city. That's a distinction Club Cubic in City of Dreams holds, thanks to its 30,000-square foot space that's spread across two levels of live entertainment. Not only does Club Cubic have all the amenities of a top-grade club, it also holds the distinction of being the first bar in Asia to have a Perrier-Jouët champagne bar.
As soon as you've gotten your fill of Club Cubic, you can then find your way to the center of the MGM Casino where the Lions Bar awaits you. While not comparable to the sheer size of Club Cubic, the MGM Lions Bar can hold its own as one of the premier clubs in Macau, thanks to its eclectic offering of live badsn, private tables, and yes, a lot of beautiful women.
From there, you can now turn your attention to one of Macau's most infamous locations, the fabled D2 Nightclub, considered by many as the liveliest club in Macau and literally next door from another must-go-to-spot, Divino Gentleman's Club. Expect D2 to be packed on a nightly basis so finding your way in and around the are might be a struggle on some nights. But hey, the club closes at 8 in the morning so you have plenty of time to spare, right? Maybe go next door and enjoy Divino's, too, while you're at it.
If scenic views and picturesque landscapes are your thing, there's no better view than Sky21 Lounge, which is located on the deck of the Aia Tower. The lounge isn't only a suave place to unwind, but you can do so while enjoying the 360-degree view of Macau from its outdoor seating. Throw in some late night jazz sessions, a glass of scotch, and you're well on your way to "winning" Macau.
The game is always afoot in Macau, and it's no different if you're into the kind of fun that involves a lot of nude women dancing and gyrating to your heart's content. We've already circled Divino on that list, but it's not the only one that offers that kind of, shall we say, gentlemanly fun.
Another Macau staple is the Playmates Strip Club, which actually just increased in club space to accommodate more patrons. Dancers from Russia abound the premises to go with hostessess working the floor, a lot of whom run the gamut of sexy nationalities, including Southeast Asians, Indians, Chinese, and yes, even Mongolians.
Playmates offers pretty much everything your heart desires, including topless and fully nude lap dances, and of course, live adult shows.
Comments