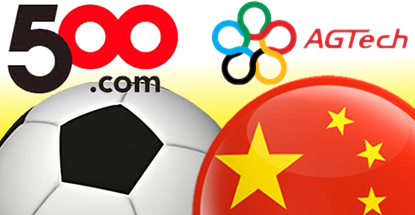 Lottery sales in China jumped 18.7% in February to RMB 20.1b (US $3.2b). Welfare lottery sales rose 18.9% to RMB 11.7b while sports lottery sales increased 18.3% to RMB 8.2b. According to the country's Ministry of Finance, sales over the first two months of 2014 are up 13% to RMB 47.1b. Total lottery sales in 2013 topped RMB 309b, an 18.3% gain over 2012 and US investment bank Piper Jaffray suggested the online sports lottery market will double in value between 2013 and 2015.
Shenzhen-based online sports lottery operator 500.com has ample reason to expect significant growth in 2014, thanks to the FIFA World Cup. In 2010, the World Cup was credited with boosting 500.com's active user base by a whopping 50% over the previous quarter. In February, 500.com reported its annual revenue rose 51.3% to RMB 259.5m ($41.8m) while operating profit rose 183.8% to RMB 171.5m. 500.com is betting on mobile being a top performer in 2014 after reporting 67% of its users access its services via mobile, which accounted for 18% of its total sales last year.
Another major player in China's booming lottery market, AGTech Holdings Ltd., recently announced the signing of a deal to provide sports lottery terminals to the Lottery Administration Centers (LAC) of Hebei and Tianjin. The deal was done via AGTech's subsidiary AGTech GOT Technology Co. Ltd., which enjoys a 50% market share of China's installed base of roughly 150k sports lottery terminals. The Hebei and Tianjin markets collectively account for 7% of China's total sports lottery sales.
Despite its subsidiary's dominant position in the Chinese market, AGTech reported a 9% drop in 2013 revenue to HKD 208.4m (US $26.9m), while gross profit dipped 10% to HKD 91.3m. The 44% fall in margins was attributed to increased costs associated with last year's rollout of its new Electronic Ball (e-Ball) Lottery product in Jiangsu province in conjunction with the Jiangsu Sports Lottery Administration Center. Despite the profit slip, AGTech CEO John Sun insisted that the company's strong foundation would serve it well in 2014, especially as it looks to diversify from its core lottery management operations into higher-margin mobile games and sales, perfectly timed to take advantage of a certain quadrennial athletic competition.