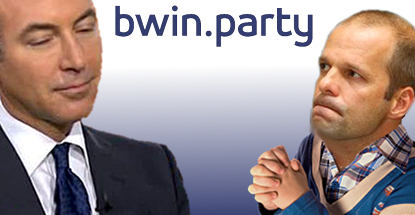 The CEO of UK-listed online gambling operator Bwin.party digital entertainment claims not to be rattled by Jason Ader's (pictured left) recent acquisition of a 6.1% stake in the company, but recent comments suggest Norbert Teufelberger (pictured right) doth protest too much. Ader, who sits on the board of US casino operator Las Vegas Sands, paid around $100m in February to acquire the Bwin.party stake via his SpringOwl investment vehicle.
Ader has a reputation as an 'activist' investor and was largely responsible for last year's bitter proxy fight at International Game Technology. Ader's Bwin.party stake entitles him to appoint someone to the company's board of directors, but Ader has yet to tip his hand as to whom he'll usher into Bwin.party's control room. Speaking to the Financial Times, Ader said he was still analyzing the individual skill sets of each current board member "so that we can complement them with a new director."
Ader's slow and steady approach has left CEO Teufelberger sounding like a nervous US Marine in a foxhole on Guadalcanal, anticipating a Japanese night attack that never seems to come while listening to the disembodied cries of "Marine, you die!" ringing out from somewhere deep in the jungle. Teufelberger told the FT that he didn't "get the feeling [Ader is] hostile or against me and my team," nor did he believe that Ader was seeking management changes or a "dramatically different" business strategy. Teufelberger said his company had "nothing to hide and we are happy to share anything with [Ader]" but nonetheless urged Ader to "tell us who his nominee is."
UK REGULATOR'S GREY MARKET STANCE GIVING COMPANIES GREY HAIRS
Ader told the FT that while the Bwin brand was strong and its finances were in good shape, the company faced "very significant challenges in Germany and some of the non-regulated markets." Recent comments by the UK Gambling Commission could very well amplify those 'grey market' challenges. In a response to a question regarding guidelines for the UK's new licensing regime, the Commission said it would require both new applicants and existing license holders to justify their presence in any 'grey' or 'black' market from which they derived 3% or more of their total revenue.
The Commission said applicants would need to demonstrate that they had "taken appropriate steps to assure themselves that they are not operating illegally." Should the Commission remain unconvinced of a company's stated rationale for serving such markets, "we may seek further information." For markets accounting for less than 3% of total revenue, a company need only demonstrate that "to their knowledge" they aren't doing business in a blacker than black market.
Remote Gambling Association CEO Clive Hawkswood told eGaming Review that he was discussing the proposed requirements with the Commission, in particular the subjective nature of legal opinions. For example, Bwin.party has routinely suggested that it is legally allowed to offer services to punters in Germany, from which the company derives a quarter of its total revenue. This stance is hotly contested by German regulators, who way back in 2012 ordered companies that have applied for federal sports betting licenses to cease offering online casino and poker products to German punters, an edict that Bwin.party continues to ignore. The Commission is expected to issue further clarification of its grey market stance later this month.