It's on. With one week left in the proxy fight at International Game Technology, the battle for control over the company has become increasingly dramatic, and increasingly nasty, featuring leaks, character attacks, and hostile exchanges of openly published letters between IGT and Ader Investment Management, the shareholder leading the activist charge.
In January, AIM – run by former gaming industry analyst Jason Ader – announced its intention to nominate three new board members at the March 5th annual meeting, including the company's former CEO, Charles Mathewson. In a letter to shareholders, the firm echoed concerns I first raised in October about the company's strategy and capital allocation decisions made under current CEO Patti Hart. The Ader group criticized a series of decisions, notably a curiously timed accelerated stock repurchase and IGT's $500 million purchase of Double Down Interactive last year. IGT responded with a letter of its own, defending its acquisition strategy and its financial performance, while also criticizing the Ader slate. In particular, IGT questioned the choice of Mathewson, now 84, who had been gone from the industry for ten years and whose hand-picked successor, T.J. Matthews, saw a disastrous reign from 2003 until 2009.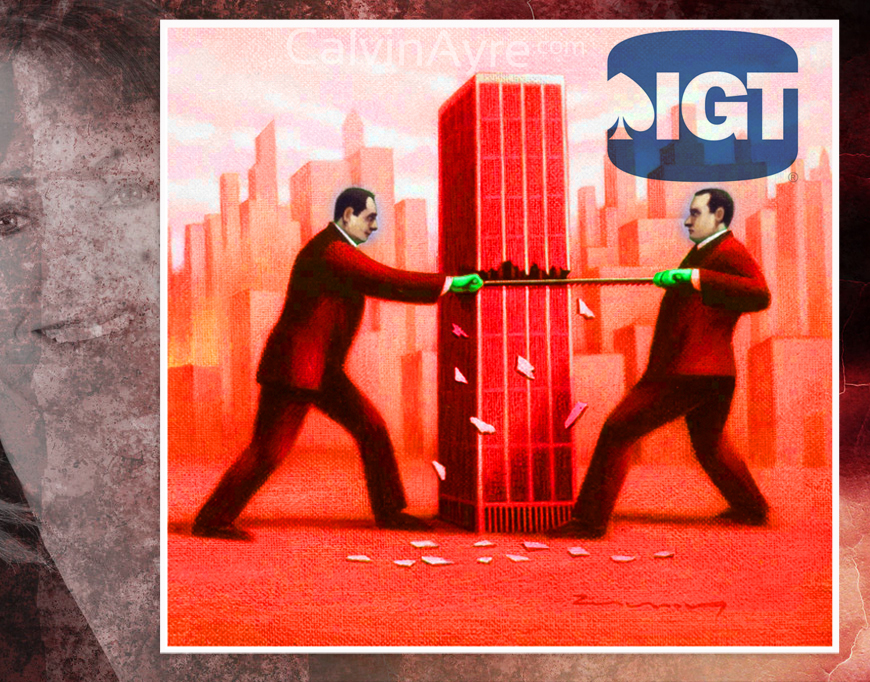 To this point, the exchange was contentious but relatively polite. That would change. On January 28th, Ader filed its official notice with the Securities and Exchange Commission to nominate its three directors, and created a website full of supporting materials at rescueigt.com. Ader repeated its unhappiness with the stock price, again questioned the acquisition and repurchase strategies, and also noted its intent to re-focus the company on its core mission of manufacturing slot machines, and to boost what it called "a dearth of casino gaming expertise" on the company's board and in its executive ranks. It then went on to criticize Hart's past experience, noting that the three companies she had run previously had all seen significant declines in share price, after which she, in the Ader group's somewhat condescending words, became "a professional board member" at IGT, Yahoo!, and executive search firm Korn/Ferry International. (Non-executive board members are rarely, if ever, involved in the day-to-day functioning of the company, yet often receive exceptional compensation. It has often been called "full-time pay for part-time work," which explains why the Ader's group phrase would be construed by other executives as an insult.)
Ader also recapped the rather embarrassing episode at Yahoo!, where Hart led the special committee that hired CEO Scott Thompson in January 2012. Five months later, Thompson was forced out after it was discovered he had inflated his resume, citing a computer science degree earned from a college which, at the time, had no computer science department. Amidst the controversy, it was also revealed that Hart herself had added some minor embellishments to her own degree, turning a business administration degree with an "emphasis" in marketing and economics into full degrees in those subjects. Soon after, Hart left the Yahoo! board; according to AllThingsD, it was the IGT board who asked her to leave to "better focus on the company she actually runs."
If the attacks were personal, they were fair; and it's worth pointing out that AIM's letter did not – as I did in October – call for Hart's removal. The firm wrote only that "based on her history, we have no confidence that your CEO can repair the damage without better board guidance." But on February 1st, IGT responded with blistering personal attacks of its own. After again defending its record, and contesting claims made by Ader in his proxy filing, the company turned to Mr. Mathewson. The former CEO, wrote the IGT board, "had a decidedly 'old-school' approach to corporate governance" which was "driven by his own-self interests" and "would not be…even considered acceptable by today's standards." According to the current board, Mathewson "expected IGT to fund his lavish lifestyle" through "questionable compensation practices" which included the "back-dating" of stock options. ("Back-dating" was a practice rather widely used then, in which the date of a stock option grant was moved to a point when the stock price was lower. Thus, an executive granted an option at $15 in 2003 could re-set the date to 2001 – when the stock might have been trading at $5 – and, in 2004, cash in those options even though the share price had fallen from $15 to $10. The practice – ethically wrong, but not necessarily illegal – led to a series of scandals in the last decade, notably at Apple and many other tech companies.)
Even after leaving, Mathewson still was on the dole, according to the IGT board. Despite "challenging times" at IGT between 2003 and 2012 – during which the company laid off employees – Mathewson received $7.6 million for a life insurance policy, over $400,000 for country club dues, and over $60,000 in health insurance premiums. Then IGT broke a rule that even the Mafia understands: it went after Mathewson's family. After Mathewson resigned in 2003, the board claimed that he "orchestrated the installation of his son, Robert Mathewson, on the IGT board," using him as a "personal liaison" in an attempt to "influence the Board." IGT took a shot at Robert as well, pointing out that his 16-year employment history leading up to his appointment consisted solely of short stints as an assistant to a stock broker, an intern at Harrah's, and three months at IGT itself, combined with an eleven-year stretch where he was employed either by himself or his father. After basically calling his son a deadbeat, IGT closed by taking aim once again at Charles Mathewson, claiming the entire proxy fight was a result of "personal grievances" held by the former CEO due to the severance of his post-retirement expense account and the removal of his son from the board.
Into the fray stepped a guest star: Wynn Resorts founder and CEO Steve Wynn. Wynn issued his own press release, in which he called Mathewson "a man of wide perspective and vision…People who worked for him held him in the highest regard, as did every major company in the gaming industry." Wynn criticized IGT as well, noting that "since his departure the company has seemed to have lost (its) edge. I am personally saddened by what appears to be a paid professional attempt to smear him." Three days later, New York-based firm Orange Capital, another IGT shareholder,released its own letter, calling on the board to accept all three nominees and decrying IGT's "public mud-slinging campaign" while calling the board's commentary "distasteful and without merit."
Whether or not those personal attacks were justified, soon afterward, the tables would be turned on IGT and CEO Patti Hart. On February 17th, the Las Vegas Review-Journal reported that, a year earlier, IGT had purchased social gaming company BringIt for $10 million the previous February. But the purchase was not disclosed, nor was it ever disclosed that the lead investment bank on the transaction was Pagemill Partners, where Hart's husband Milledge Hart is a managing director. The company told the paper that the deal was "immaterial," thus justifying the lack of a disclosure to the SEC, and that both Harts had recused themselves from the deal's discussion. Corporate governance experts interview by the LVRJ's Howard Stutz appeared to agree with the company's assessment.
Forbes contributor Eric Jackson did not, however. "If a deal is 'immaterial,' is it necessary to recuse yourself? Or, if you're recusing yourself, shouldn't shareholders know that you're doing so?" he asked, accusing Hart and IGT of trying to have it both ways. Jackson criticized Hart at length, again bringing up the Yahoo! scandal. He also added that Hart, despite spending four years as the head of a company located in Reno, still maintained her primary residence in Silicon Valley, outside San Francisco, and accused the "carpet-bagging" CEO of "stack[ing] the board with a bunch of her friends."
It would quickly become apparent that Jackson was not alone in his criticism. Two days later, he posted a follow-up, in which he said he had received an "earful of emails and comments" from people who were or had been involved with the company. Jackson sought out a source at IGT, who he claimed "was in a position to be able to fairly sort through some of the rumors" about Hart's actions. The anonymous person told Jackson that the company had bought a private plane for its salespeople, only to find that Hart had dominated its use while discouraging other employees from taking trips. Through a site called FlightAware.com, which tracks planes based on their tail numbers, it quickly became evident that Hart had used the plane multiple times for personal reasons, including a trip to France and "over a dozen" flights between Reno and the San Francisco area. The source also noted Hart's fondness for expensive hotels – while subordinates were subject to the company's cost controls – and said that he or she did not recall either Hart or her husband recusing themselves from the BringIt discussions, as IGT had claimed.
With mud firmly stuck to both sides, the parties have moved to, perhaps, create an amicable settlement before next Tuesday's meeting. On Monday, Jason Ader personally sent a letter to IGT chairman Philip Satre, asking for a meeting and arguing that a new board "would be best accomplished through a negotiated settlement." In response, the Review-Journal's Stutz received an emailed statement from an IGT vice president in which the company appeared receptive to a meeting, though it cloaked its response in standard corporate-speak.
A settlement may be appealing, because both sides appear to realize that a full victory is becoming unlikely. Proxy firms Institutional Shareholder Services, Egan-Jones, and Glass, Lewis – hired by shareholders to provide ostensibly neutral advice in these situations – have shown little support for the Ader group. Egan-Jones threw its support behind all eight of the company's current directors, while only Daniel Silvers drew support from the Ader slate from ISS and Glass Lewis. The latter two – the largest companies in the field – did not, however, show support for the IGT board members targeted by the activists, refusing to endorse either of the current directors. Both firms may be echoing my conclusion from last month that, in this battle, "there's no one to root for." Without the solid recommendation of the two largest proxy firms, both sides may be willing to compromise.
Even if a deal is brokered, it certainly appears that participants on both sides will leave the proxy fight with some serious scars. Hart's already-shaky reputation has taken another hit, while the board's personal attacks on Mathewson and some questionable use of statistics on its earnings growth and share price appreciation should give shareholders pause. Notably, in a letter to shareholders on the 11th, the board enclosed a chart showing IGT's outperformance against a "peer group" from April 1st, 2009 to January 30th, 2013. Why the 30th, and not the 31st? Because on the 31st, competitor WMS Industries was (6) bought out by Scientific Games, causing a 59 percent jump in its share price, and the board didn't want that gain to boost the peer group's performance. Similarly, as Ader's group noted in its own release, the board issued a press releases claiming that Glass Lewis "endorses, in effect" seven of its directors, when in fact the proxy firm had issued neutral "do not vote" opinions on two of the three targets.
On the activist side, Mathewson's reputation as the founder of one of the great gambling suppliers in the world may be tarnished in the wake of the IGT accusations. Ader's ability to get only one of three nominees approved by any of the proxy firms, despite clear shareholder discontent, has cast some doubts on his tactics throughout the fight, and his choice of candidates for the director seats.
Meanwhile, IGT employees and shareholders face the distraction of the proxy fight as they are trying to execute a turnaround of one of the gambling industry's titans. No doubt they are waiting for the fight to end, as it's done more than its fair share of damage already, to nearly everybody involved.