Oleksii Khoroshenin wins the EPT Main Event, and €578,392 in prize money, after overcoming a field of 910 players to take the title at the Hofburg Palace in Vienna.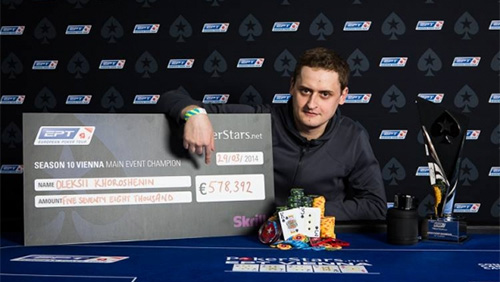 So Oleksii Khoroshenin walks away from the salubrious Hofburg Palace as the winner of EPT Vienna – or was it Marko Neumann?
Once again the true victor in these circumstances falls under scrutiny after a three way deal sees Marko Neumann take the lion share of the cash, before being coolered into a third place finish.
Neumann may be smiling all the way to the bank, but it's the Ukrainian who will be remembered in years to come, after becoming the first player from his troubled country to capture one of the most prestigious titles in the world.
Prior to this final table Khoroshenin's largest score to date was a runner-up position in a €5k side event at EPT Barcelona, where he picked up over $65k after losing out to Joao Barbosa in heads-up action, so it's safe to say he was in unknown territory, and the victory ranks as his first in his live tournament career.
It was a great final table despite the talents of Johnny Lodden (15th), Jude Ainsworth (21st) and Stephen Chidwick (22nd) just falling shy of the last few fences; but the World Series of Poker (WSOP) bracelet holder Simeon Naydenov did make it, as did the aforementioned Neumann.
Khoroshenin also managed something that very few do, and that was to end the first day of action as the chip leader and then go on to win the competition. It is also such a lovely moment for a man who must be plagued with worry about the ongoings in his home country.
War and politics aside we had a poker tournament to play and play Khoroshenin did. The Ukrainian started like a rocket when he eliminated Rumen Nanev in a flip QQ>AK, but then he sat back and allowed the rest of the final table cut each other out of the action until they were three-handed and a deal was struck that saw Neumann walk away with most of the money.
Three Handed Deal
Marko Neumann – 13,920,000 chips (€638,127)
Oleksii Khoroshenin – 8,635,000 chips (€528,392)
Anthony Ghamrawi – 4,690,000 chips (€446,481)
The critical moment came when Neumann was coolered both times against Khoroshenin: the first in a house over house situation, and the second in a two pair versus straight spot.
That left Khoroshenin with a huge 20,720,000 v 6,525,000 position against Ghamwari and the tie was all over after the pair got it in on a [7c] [5s] [4s] flop with Ghamwari ahead with [7h] [6d], and Khoroshenin left chasing with [Ks] [3s]. The [Ts] arriving on cue on the turn to give Khoroshenin the flush and the title deeds.
Final Table Standings
1st. Oleksii Khoroshenin – €578,392
2nd. Anthony Ghamrawi – €446,481
3rd. Marko Neumann – €638,127
4th. Pablo Gordillo – €262,150
5th. Timo Pfuzenreuter – €203,900
6th. Simeon Naydenov – €151,000
7th. Frei Dilling – €108,100
8th. Rumen Nanev – €77,000
Comments