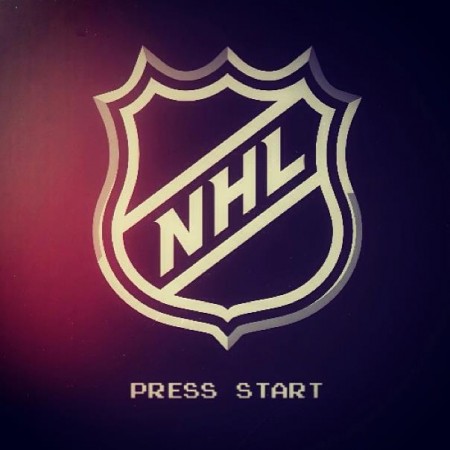 True story: the first time I ever cried over my sports team losing a championship series was 1994. I was nine at that time, so give me a break. Anyway, that was the year the Vancouver Canucks lost the Stanley Cup Finals to the New York Rangers in seven games. I really wasn't so much of a hockey fan in those days, except that my aunt, who was in Vancouver at that time, always sent me and brother Canucks gear, one of which I especially loved: a Pavel Bure t-shirt.
So without knowing whose name it was I was wearing on the back of my shirt, I started rooting for the Canucks, never mind the fact that back then, the NHL was only being broadcast during the playoffs.
Once the playoffs began, I finally got to see the 'Nucks on TV and apparently, this Bure dude was pretty damn good. Borderline awesome even, especially for a nine-year old who understood next to nothing about the sport. But as the team moved one step closer and closer to the Finals, my fascination slowly became an obsession. I was hooked. To Bure. To Trevor Linden. To Kirk McLean. And yes, even those horrible black, red, and orange jerseys.
So yeah, I cried when they lost to Mark Messier and the Rangers, I was beyond devastated, perhaps even borderline catatonic. But at least I was encouraged, knowing that I had a new hockey team to root for. Or so I thought.
The next few years, the Canucks remained relevant, but always seemed to come up short in the playoffs. Then Bure got traded to the Florida Panthers and it ushered in the immortal Alexander Mogilny era. Slowly, my interest dissipated, largely because this wasn't the Canucks team that I was fixated on. Back then, I didn't understand the concept of team loyalty, so I admit to having lost interest in the team, the league, and the sport in general.
But a few years ago, I began to follow hockey again, and no it wasn't because the Canucks were good again, even if they actually were. It was because I found another way to enjoy it.
The first hockey bet I ever made turned out to be a winner when Sidney Crosby netted the game winner against the Toronto Maple Leafs. As a veteran NBA bettor by that time, I discovered that I enjoyed betting on hockey more, not because there's more vig on hockey games, but because betting on it, especially the puck line, offered some pretty enticing odds, even if hitting on those games can come few and far in between.
But I won more than I lost and at that point, that was the only thing that mattered. So there, I concede: I came back to the NHL because of the gambling. Is that so bad?
Since then, I've taken to betting on the NHL more than I have on the NBA, football games, and yes, even the NFL. That's an achievement in it of itself because pretty much every other sports fan I know continuously pours over betting on the NBA. That was also the same time I realized something that still makes bothers me to this day.
Why aren't there more people betting on hockey games?
Popularity is one thing. That immediately became evident when I told a friend of mine that I was looking at putting money on Los Angeles to beat New Jersey in the 2012 finals, only for my buddy to shoot me a quizzical look, as if asking with his eyes how in the hell did I think the Lakers and the Nets were meeting in the 2012 NBA Finals. None of them have heard of the Ottawa Senators, let alone the Winnipeg Jets. Some of them even wondered when the Sacramento Kings relocated to Los Angeles. It was that bad, but not entirely surprising as I've come to find out.
The lack of awareness on the NHL made betting on it difficult for a lot of people, especially when other options – the NBA and the year-round football schedule from various leagues around the world – were prevalent and readily available.
Here's the thing, though. A lot of people are missing out on the NHL because betting on it makes for some pretty incredible TV viewing. Scoring isn't as low as football. The pace isn't as slow as baseball. And the dramatic swing in momentum isn't as evident as the NBA.
In hockey, you get a sport where one team can be down 2-0 after two periods, only to rally with four goals in the third to cover the run line. Fist bump, St. Louis Blues!
In hockey, you get a sport where both teams can enter the third period mired in a scoreless game, only to see six goals in a ten-minute span to hit the 5.5 over. Much love, Pittsburgh Penguins!
And if you're a fan of betting on the puck line as I am, there's no more nerve-wracking feeling in the world than seeing the team you have money on score an empty net goal in the dying seconds to make the back-door cover.
Admittedly, I also bet on the 1X2 on football games and when hockey isn't around, I turn my attention towards baseball, slow as snail pace notwithstanding. But none of those sports are as exciting to watch as hockey, especially when you have a three-team parlay with 25/1 odds on the line.
Historically, close to 50 percent of NHL games are decided by one goal. That might deter a lot of bettors from taking advantage of the inflated odds for puck lines, but I've always looked at it in a half-glass full kind of way. 50 percent means the other 50 percent ends in more than a goal difference; the difficult thing is finding those games where, as the Hunger Games likes to always say, "the odds are ever in your favor".
I've been betting on the NHL for close to three years now and fortunately, I'm still in the black. I've had some dry spells, but I've also had some nice runs. But in all that time, the excitement of betting on hockey hasn't waned.
And if you're wondering, I don't consider the Canucks as "my" hockey team anymore. If somebody asks who my favorite team is now, I have a simple five-word answer.
"Whoever I have money on".