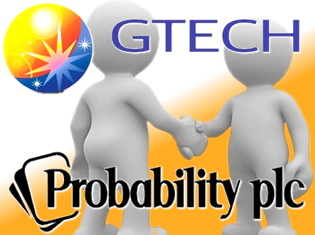 The UK subsidiary of Italian gambling and lottery solutions provider Gtech SpA (formerly known as Lottomatica) has struck a deal to acquire mobile gambling specialists Probability PLC. The £18m deal has already been agreed to by Probability's board and by 54.8% of shareholders, so assuming Probability's regulators in Gibraltar, the UK and Italy don't object, the mobile company should officially become a wholly owned subsidiary of Gtech UK Interactive by the middle of the year.
The AIM-listed Probability posted net revenue of £8.6m (+20%) in its most recent fiscal year ending March 31, 2013, while net revenue for the six months ending Sept. 30 were $6m (-20%), a dip that caused a 25% drop in Probability's share price. The deal values Probability at 58.7% above its Feb. 17 closing price of 31.5p per share. Probability CEO Charles Cohen said the two companies' "combined knowledge and resources will drive future growth for our mobile customers." Probability's current UK and Italian client roster includes the likes of William Hill, Paddy Power and 888.
Gtech president of products & services Renato Ascoli called the deal "a significant step … to meet the mobile gaming needs of our World Lottery Association (WLA) and commercial customers." Ascoli called the deal complementary, in that Probability doesn't currently do lotteries and the union would lead to operational synergies in R&D and games development. Best of all, Ascoli figures integration into Probability's platform should be a breeze since Gtech is already a customer in the Italian market via Probability's B2B subsidiary Playoo.
Comments