Cebu, Philippines, February 17, 2014 – The new Asian Poker Tour (APT) season is off to a roaring start after record numbers both in most side events and the main event in the APT Asian Series Cebu 2014 held at the All-In Poker Club in Cebu, Philippines.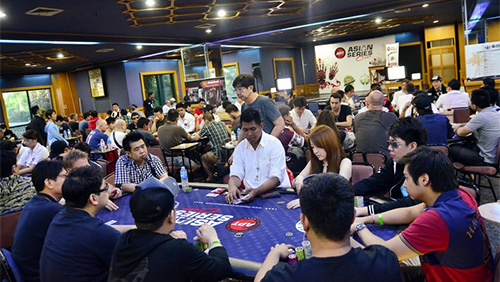 168 players joined Day 1B of the main event with a buy-in of PHP 50,000. After 131 entered in Day 1A last Saturday, the total number of participants was set at 299, the highest ever in any APT Asian Series Cebu main event.
111 runners survived after the pair of Day 1s and Sun Tan of Malaysia was the surprise leader with 228,700 in chips. Two from the Philippines—Mike Takayama (174,200) and Czardy Rivera (140,500) complete the crew with big stacks entering Day 2 scheduled on Monday, February 17th.
A total 48 players advanced from Day 1A and 63 from Day 1B. All will be aiming for a share of the main event prize pool of PHP 13,341,000. The APT Asian Series Cebu 2014 main event champion will get PHP 3,235,000.
Other contenders with a large haul are George Jason Rankin (United Kingdom) with 130,100; Jun Yeob Song (South Korea) with 117,700; Euryd Rivera (Philippines) with 109,100; Azusa Maeda (Japan) with 106,700; Bernadette Fitch (Australia) with 104,700; and Ryan Yu (Canada) with 102,540.
Meanwhile, in the side events also held Saturday and Sunday, Jun Son of South Korea took down the No Limit Hold 'Em for PHP 236,700, Masahiko Sugisaka of Japan won the Deep Stack Turbo for PHP 154,000 and Adam Monaghan of Australia ruled the DafaPoker Pot Limit Omaha Hi for PHP 155,700.
Also happening on Monday is the Fulpot Poker No Limit Hold'em with PHP 16,500 buy-in at 3:00 p.m. and the Pot Limit Omaha Turbo with PHP 5,500 buy-in at 6 p.m. For events results, check the APT Asian Series Cebu 2014 Results page.
For media inquiries, you may contact:
Monique De Jesus
Email: [email protected]
Comments