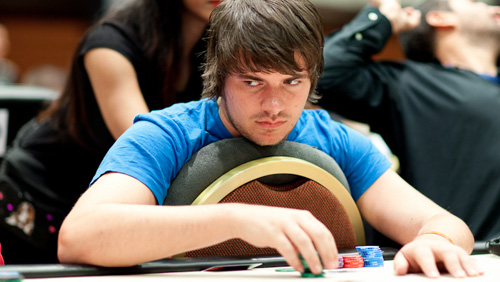 Despite being one of the most successful live tournament players of recent times, 2013 was the first-time that 'Mad' Marvin Rettenmaier did not see his gross win increase from the previous year since he started recording cashes back in 2009.
Then again, when you have won two World Poker Tour (WPT) titles and a series of other big scores on the European Poker Tour (EPT) accumulating into a $2.5m gross win for the year, then one shouldn't be so hard on ones self.
"I have been on a little poker break and have been using the time for reflection. 2013 was not as good as 2012 – poker wise. So I am going to try and change that next year."
Was there anything in particular that changed in his game?
"I didn't play as much; I have also gotten unlucky in a couple of big spots, where I got really lucky last year – so it kind of evens out. I think I have been playing well – not my A+ game all the time – but I have been playing well enough, especially in the last half of the year."
Has the success, and all of the trappings that go with it, gone to his head a little and affected his game in a negative sense?
"Honestly, I don't think it does in my case. When I play a poker tournament I don't immediately think of the money at first. I just want to win. I have gotten close a couple of times this year, but it just didn't work out."
He's not wrong when he says he has gotten close this year after making the final tables at WPT Baden and WPT Caribbean; and he proved he has not lost his winning touch with decent scores in Kyrenia and Kiev, helping to create another big six-figure year for Rettenmaier.
"I wanted to win a bracelet, this year, as well as another WPT title. It didn't work out so I guess I am going to have to win two next year instead."
Why does Rettenmaier covet the WPT title more than say the EPT title?
"There are several reasons. I like the WPT tournaments better because there is a wonderful family atmosphere, whereas the EPT is too big to have that. It's a well-organized tournament, and I like playing them, but I prefer the WPT's. Winning two also makes a difference and to win another and then to be the first to win four – that's a goal of mine."
He also spent a long time at the top of the Global Poker Index (GPI) rankings during 2012. How important are rankings to the Mad One?
"They are important to me – they used to hold more importance – but now I have been on top for quite a while I feel like I don't have anything to prove anymore. But I still look at them every once in a while, and it would be good to be number one again."
And what has Rettenmaier been doing off the felt?
"I am trying to get back in shape – if I ever was in shape. That's a goal for the next couple of months. Work out a lot and lose a little bit of weight.
"I should probably have some prop bets because I am very confident. But I'm just going to go with my motivation and hope it lasts. I am going to start doing some Jujitsu when I am in Australia, because I am there for 6-weeks, and also want to take guitar lessons for the first-time so that should be fun."
Everyone who travels the circuit would have heard Rettenmaier plucking his guitar strings and warbling along. Guitar lessons? This kid is a rock star.
"I used to play the keyboard when I was younger, and I have a decent understanding of music. So I taught myself to play the guitar when I was in college in San Diego. This means I taught myself a lot of wrong things, but I know enough to have a sing-a-long. But I have a chance now to learn to put that right and learn properly and I am really excited about that."
Does Rettenmaier have dreams and aspirations to move forwards in the music industry?
"Right now I really like poker and so I am focusing on that. I am not sure, if anything will ever come up in music because there are a lot of talented musicians in the world – so it's tough. But if one day I have enough money to not care about things then I could see myself as a musician one day."