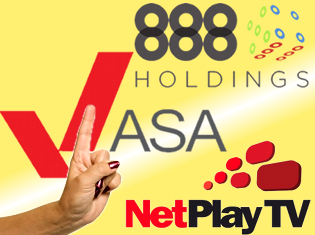 UK online gambling operator 888 Holdings was the undisputed king of the 9th annual eGaming Review Operator Awards on Monday, walking away with the trophy for operator of the year in addition to prizes for top casino operator and poker operator. (Unless that's eGR's subtle way of saying 888's sportsbook really sucks the big one.) But the UK Advertising Standards Authority (ASA) is less impressed with 888, having rapped the company's knuckles for the second time in as many weeks over its promotional campaigns.
Last week, a banner ad proclaiming 888's VIP program to be "the best" in the biz earned the ASA's ire. This week, the ASA took issue with 888's Wild Gambler slot, which a player complained had been overstating the likelihood of winning. Specifically, the player found that Wild Gambler's demo mode resulted in a "substantial" winning result every other spin, accompanied by a pitch to "try your luck" by spinning to "win huge jackpots FOR REAL!" The player felt this 50% success rate grossly misrepresented what a player might experience when playing for actual cash.
888 responded by saying the free-play version of Wild Gambler was merely intended to offer players a sense of the look and feel of the game, but it wasn't governed by a random number generator system and wasn't intended as being representative of the real-money version's success rate. Bollocks, said the ASA, ruling that players might well infer that the demo's win rate replicated what they might expect to achieve playing for actual cash. The ASA ordered 888 to more clearly stipulate the likelihood of winning when real money was on the line.
The ASA also rebuked Netplay TV Group for a SuperCasino.com television ad stating that a roulette player could "choose red or black for odds of 1 to 1." Some quant watching at home noted that the presence of the green "0" slot on the wheel skewed the odds at slightly less favorable than 1 to 1. Netplay argued that players understood that the green '0" represented the built-in house edge and was standard practice throughout the industry. But the ASA upheld the claim, saying the ad copy was sufficiently ambiguous to antagonize algebra fans with nothing better to do, and ordered Netplay to use more decimal places in future.