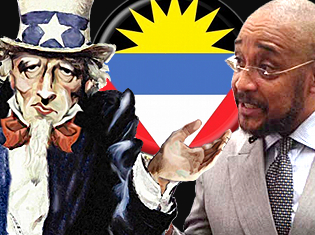 Antigua & Barbuda officials have described their latest attempts to resolve the longstanding trade dispute with the United States over the US-led crippling of Antigua's online gambling industry as "disappointing." Ambassador Colin Murdoch (pictured far right), part of Antigua's negotiating team in Washington, told Caribbean360 that there was "no escaping" the reality that the latest meeting with their counterparts at the US Trade Representative (USTR) had failed to produce any breakthroughs. Murdoch said the latest USTR proposals "fell far short of what is required to settle this matter," leaving Murdoch pessimistic that any agreement would be reached "in the near term."
For those who may be in the dark, Antigua filed a World Trade Organization (WTO) complaint in 2003 over US government efforts to block Antigua-based online gambling companies from serving US customers. The WTO ultimately determined that the US couldn't block internationally-based sites while simultaneously allowing US-based firms to accept online horseracing wagers as per the Interstate Horseracing Act (IHRA). The WTO ordered the US to pay Antigua $21m in annual damages backdated to April 2006.
But the US has slowrolled Antigua, continuing to insist that it knows better than the WTO how international trade obligations are supposed to work. As a result, the total sum owed to Antigua has grown close to $150m. Foreseeing the US intransigence, the WTO authorized Antigua to do a Malcolm X and collect by whatever means necessary, including setting up a website offering royalty-free digital downloads of US intellectual property (movies, music, TV shows, etc.). So far, Antigua has refrained from invoking its nuclear option in the hope that the US would – at long last – admit it was in the wrong. But for US officials, 'sorry' seems to be the hardest word. Meanwhile, state legislators are pushing the envelope by proposing regimes to license operators to serve non-US customers.
On Thursday, Murdoch said that 'in failing to address key proposals that we have made, the USTR has put intellectual property rights holders at risk." Murdoch said the US offer was "considerably less" than the WTO-mandated amount, but more to the point, the US was missing the bigger picture. Murdoch says the right response would be "something tailored specifically to the needs of Antigua and Barbuda which addresses the economic damage done by the failure of the United States to comply with its obligations under the WTO agreements."