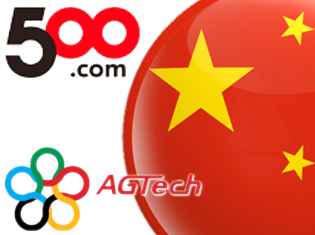 Earlier this month, Hong Kong-listed Asian lottery tech provider AGTech Holdings subsidiary AGT won approval from China's Ministry of Finance to launch a new virtual fixed-odds sports betting game. Virtual Football joins AGT's Lucky Racing virtual Formula 1 racing product as the only two virtual fixed-odds sports betting offerings approved by Chinese authorities. UK betting operator Ladbrokes holds a 49% stake in AGT, with AGTech holding the majority stake.
Initially, the new Virtual Football product will launch in Jiangsu province – the top sports lottery market in China with a 14.6% share – in conjunction with the Jiangsu Sports Lottery Administration Center. Virtual Football will be televised in sports lottery stores, offering wagers on four different matches every 20 minutes. Players can pick win, lose or draw options for either half-time or full-time outcomes, as well as correct score, total goals and accumulators. Assuming it's a hit with punters and no virtual glitches emerge, the product will then be rolled out nationally under the watch of the National Sports Lottery Administration Center (which offers its own fixed-odds sports lottery product, Jing Cai).
If there's a hitch, it's that Chinese regulations cap the payout ratio of sports lottery products at 69%, a significant haircut from the 95-98% payout available via international online sports betting sites. That handicap may also limit the appeal of the upcoming $150m initial public offering of 500.com Ltd., the Shenzhen-based online sports lottery distributor that has reportedly received approval from the Ministry of Finance to ratchet China's Sports Lottery up a notch.
China's Sports Lottery providers have previously made deals with online retailers to sell tickets on a province-by-province basis, but sources told Macau Business Daily that 500.com has been given the green light to set up a nationally accessible system more reminiscent of a traditional online sports betting site. It remains to be seen how long a leash Chinese authorities are prepared to give 500.com, leaving open the tantalizing (but unlikely) possibility the firm will get the nod to offer the in-running wagers that are all the rage in Asia.
500.com's regulatory filing with the New York Stock Exchange lists its web and mobile user base at 18.4m. Revenue through the first nine months of 2013 came to RMB 163.4m (US $26.8m), a 25% rise over the same period a year earlier, while net income nearly doubled to RMB 20.6m ($3.4m). As for why 500.com chose to list in New York instead of Hong Kong, the suggestion has been made that they're relying on US investor ignorance of the disparity between the officially sanctioned sites' maximum payout to punters and that available via international online sites. Caveat emptor.