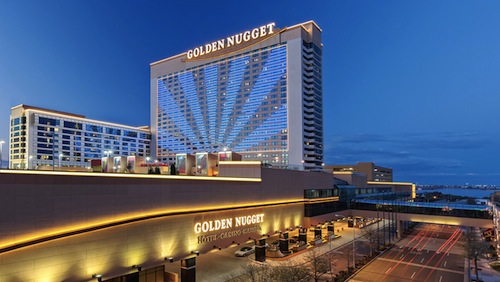 A week after Borgata became the first Atlantic City casino to be granted an online gambling permit in New Jersey, Golden Nugget wasted little time becoming the second.
The New Jersey Division of Gaming Enforcement awarded the casino its own permit yesterday, thus clearing the way for Golden Nugget to begin its online gambling operations as soon as the state opens up the service next month.
Unlike a lot of the casinos in Atlantic City that have partnerships external tech and service providers, Golden Nugget will be offering online gambling under its own brand. It did tap Bally Technologies as its online technology partner, but as far as the services are concerned, Golden Nugget will seemingly handle all of that in-house.
None of that, though, would've been possible if the casino didn't secure a permit from state regulators. But it appears that the Golden Nugget passed all of the cursory requirements to be granted a license and now that it has one in its possession, the casino has the green light to launch an invitation-only trial period on November 21 before the real deal (finally!) opens its doors on November 26 – assuming, of course, there aren't any hitches leading up to that date.
Being cleared to offer online gambling is a huge deal for the Golden Nugget, as it is to all the casinos in the AC, all of which have struggled in recent years to generate any positive growth in revenue. Last September, the Golden Nugget generated only $10.7 million in revenue, 6.8 percent lower year-on-year.
Having the license to offer online gambling should give the casino a new source of revenue to jumpstart its floundering numbers, an issue that all 12 casinos in Atlantic City all share.
With Golden Nugget joining Borgata as the first two AC casinos with online gambling permits, that leaves 10 more casinos, eight of which already have partnerships with online gambling companies to launch their own online gambling in the state. All four of Caesars' properties in Atlantic City are teaming with 888 Holdings; the Tropicana Resort chose Gamesys Limited; the Trump Taj Mahal has a deal with  Ultimate Gaming while its sister-company, the Trump Plaza Hotel and Casino has a deal with Betfair.
Revel Casino-Hotel and the Atlantic Club Casino Hotel are the only two casinos that have yet to disclose their online gambling plans. It's highly unlikely that both will forego the chance to go live online seeing as the two, especially Revel, need as much added revenue as they can get.
Comments