The Global Gaming Expo kicked off on Tuesday with a typically jam-packed slate of speakers, exhibits, and meetings. Sessions on some 12 tracks, ranging from casino design to security and surveillence to finance, were held all day throughout the cavernous Sands Expo Center in Las Vegas.
Our talented correspondent Becky Liggero is posting video reports from the conference throughout the week, while I'll be augmenting her coverage with recaps of notable and interesting events from each day. Among the highlights of Day 1:
Latin America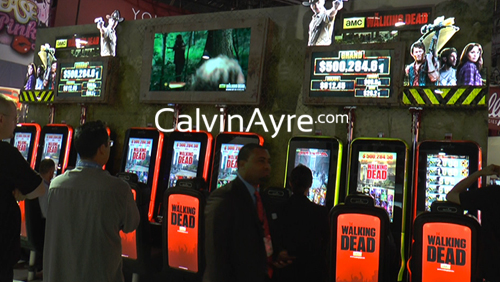 Two afternoon sessions looked at worldwide gaming trends, with the first focusing on Latin America. All told, the story in Latin America was one of potential versus reality, as demand for gambling and modest economic growth in the region is count eracted by the difficult political environments in many Central and South American countries. Cristina Romero of Spanish law firm LOYRA noted the trouble in Mexico, where poor regulation – and occasionally non-existent law enforcement – had allowed for the massive growth of a "grey" market in the country. (Fellow speaker Francisco Nolla of Spectrum Gaming would later point out that Mexico's gaming regime came from legislation enacted in 1947, making it presumably unfit to manage the modern industry.) As such, the company's legal operators were at a massive disadvantage, paying taxes and licensing fees while illegal or quasi-legal operators kept their profits. Romero also noted the effect of Mexico's notorious cartels, admitting that there are "certain areas of Mexico where the casino industry is dominated by organized crime." The total effect has been the shut down of regulated casinos by frustrated operators: as many as 20 casinos have closed in Monterrey province alone. (That province was the site of the horrific attack in 2011 that left 52 dead after a casino was burned to the ground, reportedly in retaliation for the operator's failure to pay protection money.)
Nolla would decry the "unclear" nature of the company's regulatory regime, arguing that it hurt foreign investment. He claimed to know several American operators who had sought to enter the Mexico market, only to withdraw simply because the laws and licensing process were so opaque, and so many market participants able to get around them. In a somewhat interesting twist, at least to this reporter, he pointed out that blackjack was still illegal in Mexico, so operators had devised a version of the game using device. This type of ingenuity is not limited to Mexico; in my former home state of Oklahoma,  table games must be card-based. In response, at least one tribal casino has created a 'craps' game by gluing together six playing cards into cubes to get around the state's prohibition on dice-based games. Still, the overall vagueness surrounding regulation and enforcement meant, as Nolla advised to somewhat frustrated chuckling, that operators interested in Mexico "enter at your own risk."
But WMS executive Sebastian Salat took a different tack. After admitting that the market sounds "dark and depressing," he then emphasized his optimism toward the country. "The market is there…the market is enormous," he claimed. His advice for foreign operators? Look for a Mexican partner who understands the licensing process and the political situation on the ground.
The group moved on to Central America, with the panel largely praising the regulatory regime in Panama, while at the same time fretting about the maturity of the market and the lack of future growth. 70 casinos exist in the country, with a population of just 2.5 million and annual visitation of about 2 million, according to Nolla, raising fears of a saturated market.
Elsewhere, effective regulation was emphasized. Nolla pointed out the profileration of illegal slot machines in Puerto Rico, adding that "gaming is not a business that can grow without regulation." (Some online operators might beg to differ, but that perhaps is a topic for another conference.) Salat pointed to Peru, where a requirement that slot machines become linked to a national online server had essentially driven black market operators out of the marketplace. Salat added another potentially profitable marketplace: Colombia, where the country is similarly moving to an online authentication system. Salat pointed out that Colombia was an 80,000 machine market built essentially 12 or 20 machines at a time, with many of the games either used or manufactured in violation of existing intellectual property laws. With the system in place, and illegal operators driven out, foreign investors would see a large opportunity in the country. Fellow panelist Heliodoro Giner of the Spanish Casino Association expressed some skepticism about the success so far of the Colombian initiative, but Salat added that the country had become politically stable and signed a fair trade agreement with the US, eliminating import duties on slot machines purchased by operators.
No such agreement exists with Argentina, the last and most interesting market discussed. Giner called the country the strongest in Latin America, and perhaps then some. Pointing to the 5,000-unit Palermo casino in Buenos Aires, Giner said that occupancy there was "not comparable to anything else in the world," claiming that 70 percent of seats were full even at 4 in the afternoon on a typically sleepy Tuesday.
That is the good news. The rest was largely bad news. Operators in the country are governed by 23 different regulators at the provincial level; as Romero pointed out, there is a dire need for a single regulatory regime, as the various provinces fight over not only existing revenue but potential additions such as iGaming and sports betting. There is huge political risk; Argentine president Cristina Kirchner has banned money transfers and set an official exchange rate with the US dollar well below that of the actual exchange rate offered on the street. As such, as US operator would lose some 40 percent of its money simply in the process of getting its pesos transferred to dollars at the actual exchange rate versus that quoted by the government (and reported on the company's income statement). The reason for the ban on transfer was rampant inflation in the country, estimated at 25 percent annually, inflation that causes labor costs to rise and requires gains in revenue simply for operators to maintain profits.
Adding to the mess, not only are currency transfers largely banned, but importation is nearly impossible. Salat noted that in order to receive government permission – required to come directly from Argentina's Secretary of Commerce – to import products, firms had to export an equal amount of product. As such, he noted seriously, but to some laughter, gambling firms were exporting completely unrelated products such as soybeans and milk simply to create enough export revenue to then import slot machines into the country. All told, Argentina's gambling market sounded like an absolute mess, but Spectrum's Nolla still noted that Argentinians were simply "amazing," accounting for over 60 percent of the Latin American market. Potential versus reality, indeed.