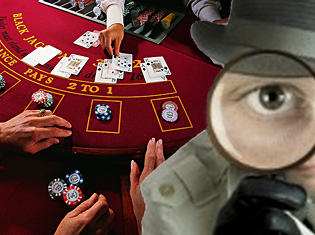 Connecticut police arrested a gambler on Sunday after Mohegan Sun casino security determined he was cheating at stud poker. The Connecticut State Police Casino Unit said casino surveillance observed 59-year-old New Jersey resident Bruce Koloshi marking playing cards with a luminous "ink-like substance" that was invisible to the naked eye but could be seen by the infrared contact lenses Koloshi was wearing. The Baton Rouge Advocate reported that Koloshi, who carries convictions for casino cheating in Nevada and Iowa, was wanted in Louisiana for similar shenanigans at the L'Auberge Casino in August.
With Asian casino markets outpacing their western counterparts, it's no surprise to learn that the region is also driving profits of high-tech security businesses. Craig Graham, general manager for Asia at German-Australian security firm Dallmeier International, told Reuters that the surveillance market in Macau "has started to get very big … It's probably the most demanding environment for a video surveillance system anywhere in the world."
Macau's casinos contain around 100k security cameras, with another 50k expected to accompany the casino building boom currently underway on Cotai. According to Graham, Dallmeier enjoys a 20% share of this market via clients like Sands China. Other firms enjoying the Asian boom include Samsung Techwin Co Ltd. and Schneider Electric PA's California-based subsidiary Pelco.
Asia's rise to casino dominance has attracted scammers like flies to honey. In 2011, SJM Holdings' casinos fell prey to scammers who managed to hide a miniature camera inside a card-shuffling machine so they'd know in advance which cards were being dealt. South Korea's Kangwon Land uncovered a similar scam in which scammers convinced an employee to hide a camera inside a card-shuffler. Casinos in the Philippines have caught scammers hiding cameras up their sleeves to determine the order of the cards as they were shuffled. Crown Melbourne has yet to confirm the nature of the high tech video surveillance trickery that enabled scammers to take $32m from the casino earlier this year.
Scammers are particularly drawn to new casinos, where the surveillance systems are untried and operators may not be fully versed in the technology. This has put pressure on new casinos to ensure their facilities are up to what an unidentified casino exec in the Phillipines described to Reuters as "Macau standard." Bob Ruggles, Pelco's Asia-Pacific biz-dev manager, noted that Macau's casinos were way ahead of their Vegas counterparts in adopting new digital technology – in part, because they weren't trying to squeeze more life out of antiquated legacy gear, such as VHS tape. Ruggles somewhat derisively noted that no one in Macau relied on analog surveillance technology. "Those days are gone."
Comments