Not only has the World Poker Tour (WPT) Legends of Poker reached its televised final table, but it also has its star act. WPT Champions Club member, Phil Laak, will start the final table in second place behind the chip leader Ryan Goindoo, and he has the skills and the experience to go all the way.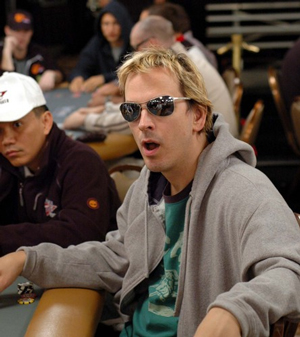 The fourth day of action started with Patrick Karschamroon holding a huge chip lead and it would only get better when he eliminated Roy Jenkins in 15th place. It was a flip with the pocket tens of the chip leader just too strong for the ace-queen of Jenkins.
Those chips hadn't got comfortable before they found their way into the stack of Dan Heimiller. The World Series of Poker (WSOP) bracelet winner, getting the chips in good on a flop of [Jc] [4c] [2h], and Karschamroon was on the losing end with pocket sixes. Just like that Heimiller was the new chip leader.
Phil Laak found the best starting hand in NLHE to eliminate Richard Munro – and his ace-king – in 14th place, and John Gordon found his outs to do likewise to the unfortunate Stephen Graner.
Sam Barnhart lost a flip against Shahen Martirosian to go out in 12th and Cherng Hua did likewise in a hand against Alexandru Masek to go out in 11th place. The Hua elimination creating a preliminary final table of 10 with Masek in charge.
The first player to leave the solitary table was Brian Gorman, who moved all-in with [Ac] [Qs] only to be called by Ryan Goindoo with [Kh] [6s]; the flop and turn bringing trip sixes and Gorman was out.
Three more hours would pass before we would see our next elimination and that unlucky tag belonged to Shahen Martirosian; once again Goindoo was the vanquisher. Goindoo opened the hijack and Martirosian defended the big blind. The flop was [Jc] [6s] [4h] and Goindoo called a 525,000 check-raise by Martirosian. The turn was the [Ts], Martirosian moved all-in and Goindoo called with [Ah] [Jh] for top pair-top kicker. Martirosian tabled [Js] [7s] for jacks with the flush draw, the river was [3c] and Martirosian was out.
Garrett Greer followed in eighth spot when he moved all-in holding [Qc] [6d] and went white when he received the call from Masek and saw he was holding a pair of queens. Then the man, who started the day as the chip leader, ended it by becoming the final person eliminated for the day. Karschamroon having to settle for $65,630 after losing a flip against Jordan Cristos to send him out in seventh place.
Final Table Standings
Seat 1: John Gordon – 2,935,000 (36bb)
Seat 2: Jordan Cristos – 4,265,000 (53bb)
Seat 3: Alexandru Masek – 2,890,000 (36bb)
Seat 4: Phil Laak – 4,730,000 (59bb)
Seat 5: Ryan Goindoo – 5,570,000 (69bb)
Seat 6: Dan Heimiller – 1,070,000 (13bb)