Once upon a time, long, long, ago, a new, strange and magical world appeared in the sky. It was a world everyone could visit, do anything and everything, without the old gods and their rules. For those brave enough to enter, this world promised untold freedom, opportunities and riches. The mortals named this world .com, and they embraced it. For a while the gods did not understand this new world, but when they did they grew angry at their laws being ignored and they unleashed a demon to stop them – the name of the demon was UIGEA.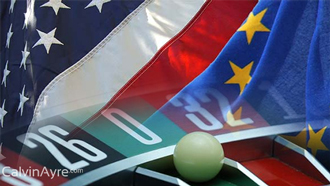 Ok, so perhaps, that's not quite the way it happened, but the fact is, rather like Atlantis and El Dorado we have been seeking to re-discover a return to this lost world ever since. They say life imitates fiction, and our search for the lost Ark of US gambling is no exception. Led by gambling's very own, Barney 'Indiana Jones' Frank and his HR 2046/2267 treasure maps, we've had the Feds, the baddies, who were quite literally made to pay, the local tribes, and locations which saw us traverse the length and breadth of the country from California to New Jersey, a few dead ends, a few red herrings, and a few twists– all of which had us hooked as spectators, but still fairly sure in the knowledge that the tale would have a happy ending.
Like all good movies though, the tale had a twist and the plot line had us wrong-footed every step of the way. Frank's early success led us to believe that change would come at a Federal level – it didn't. We thought California would be the first to go – it didn't. We thought that when the US ventured into the world of on-line they would embrace and look to the experience of European operators – they haven't, and we thought that those who had flouted the laws and traded 'illegally' would be exiled – they haven't.
In parallel, things were also changing in our own 'back yard' with the United States of Europe staging its own drama. Italy regulated, resulting in a mini-gold rush of our own. For many it turned out to be fool's gold – the cost of setting up, engaging customers and returning a quick profit proving staggeringly difficult, resulting in many boarding the flight back home. France too opened its doors to online, but following the 'burnt fingers' lesson of Italy we preceded with caution. This was followed by Spain, who seemed to learn from its neighbours and more successfully, Denmark, with others pitched to follow, and not unlike the US, discussions also happening at 'EU federal' level.
The big lesson here though was that it there is a huge cost associated with entering any new market or territory, and returning a profit, resulting in many of Europe's operators electing not to, and this is just for an on-line operation. Add on the cost of having an established land based entity first, and the cost becomes enormous, and this perhaps is the biggest barrier.
To be a contender online you already have to be established offline and in state, and with the other states considering regulation very likely to follow the template of Nevada et al, this does pretty much rule out 99% of Europe's operators.
Nothing is impossible however, and if money was no barrier how feasible would it be to enter the US? Well, the first thing is having a land based operation in state. The second is to apply for an on-line licence which is not guaranteed, followed by competing with some of the US's biggest names on their own home ground, which as the US contra-foray into Europe has shown is not easy.
Of course, there is always the prospect of acquiring a failing land business, but given that the legislation has most likely just boosted its value, there is a fair chance of paying well over the odds, and still not gaining online approval. Whichever way you look at it, the cost of entering the US is a very, very, big number.
And then of course there's the tax; from Nevada's modest 6.75%, to New Jersey's 15%, Iowa's tentative 22%, and Pennsylvania's eye-watering 45% – now reduced to a more modest 20%.
When one considers how the UK's announcement of future Point of Consumption 'tax' of 15%, brought on reactions ranging from mild palpitations to apoplectic rage and cries of 'we're all doomed' , it does  beg the question can they afford the US?
There appears to be greater opportunity for those offering services and support from outside of the US, with 3 in the line-up for New Jersey's up-coming regulatory beauty pageant, but in view of Nevada's allergic reaction to both of Europe's biggest providers this is by no means a certainty, and New Jersey will perhaps give a clearer indication of this.
It is of course early days and there is every chance that as online evolves and states become more comfortable with the concept, opportunities may open up –time will tell.
For now though, the American dream appears to be very much the preserve of the Americans.
Christina Thakor-Rankin is Principal Gaming Consultant at 1710 Gaming, working with start-ups, evolving and established operators, regulators and industry groups internationally. If you wish to submit your own editorial please contact Bill Beatty.