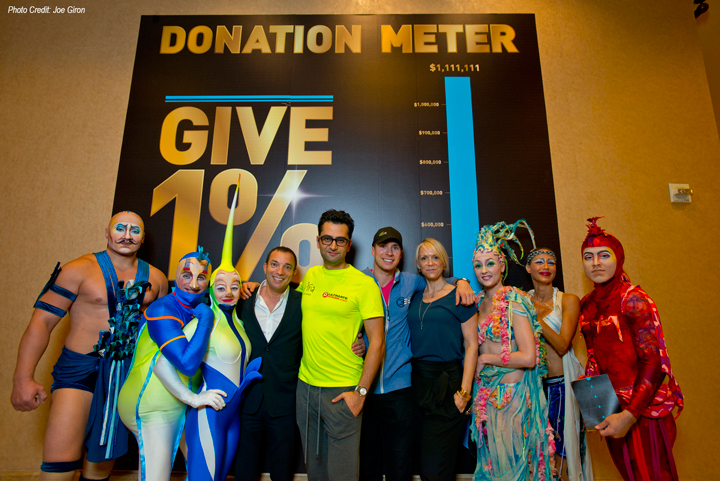 Las Vegas, August 13, 2013 – Those fortunate enough to collect shiny WSOP gold bracelets and a share of the $197 million prize pool awarded during the 44th Annual World Series of Poker weren't the only winners at the 2013 WSOP.
Through the generosity of players at the World Series of Poker, a total of 13,000 people in West Africa, Asia and Latin America will be provided access to safe water.
Via participation in two charitable tournaments and additional private donations, poker players at the WSOP raised more than ONE million dollars for ONE DROP (www.ONEDROP.org) which creates sustainable water-access projects around the world. A lofty $1,111,111 fund-raising goal for the 2013 WSOP, dubbed "All-In for One Drop" proved to be no match for the poker community, as the summer's tally now stands at $1,327,206.
The campaign – highlighted by 2012 Big One for ONE DROP winner Antonio Esfandiari's visit to the organization's projects in Latin America (bit.ly/19yM4kv)  – will continue until commencement of the 2014 WSOP.  Players at the WSOP Main Event final table in November and WSOP Circuit participants will be asked to consider donating 1% of their winnings to ONE DROP, WSOP's official charity.
In just two years of partnership between the WSOP and ONE DROP, nearly $7 million has been raised from the poker community.
"We continue to be extremely proud of the poker community's generosity and enthusiasm," said Mitch Garber, Caesars Interactive Entertainment's chief executive officer.  "The marriage of prestigious events and philanthropy has generated nearly seven million dollars in WSOP donations to ONE DROP in less than two years – a remarkable achievement."
In 2013, WSOP hosted two branded ONE DROP tournaments, the $111,111 ONE DROP High Rollers tournament (Event #47) and the Little One for ONE DROP tournament (Event #58).
A record 166 players entered Event #47, making it the largest $100,000+ buy-in live poker tournament ever. The Rio All-Suite Hotel & Casino, instead of retaining their 3% house fees for hosting the event, donated that amount to ONE DROP, an impressive $553,278.
Event #58, saw players contribute $111 of their $1,111 buy-in to ONE DROP, and that event attracted 4,756 entries, contributing an additional $527,916.
The tournaments themselves contributed $1,081,194, and an additional $246,012 was generated from the "All in for ONE DROP" campaign, where players contributed a percentage of their winnings to ONE DROP. A total of 458 players contributed via this method in amounts ranging from $5 to $100,000.
"Again, we have created history!" said Cirque du Soleil founder and ONE DROP chairman Guy Laliberté. "I am thankful to WSOP for their dedication and to the poker community for their generosity. The real winners are the people for which ONE DROP will provide access to safe water. These families can break the cycle of poverty and have hope for a better future. Together we have shown the world once again how giving the poker community is and that the ripple effect continues on."
The WSOP-ONE DROP alliance began in 2012 after an audacious $1 million buy-in poker tournament was crazily conceived by Guy Laliberté and Caesars Interactive Entertainment, Inc., CEO Mitch Garber. Despite skeptics' belief that the event would fail to draw even one table full of poker players, the 48-player capped event was sold out, and more than $5.6 million was raised for ONE DROP.
As previously announced, the $1 million buy-in Big One for ONE DROP will return to the World Series of Poker Las Vegas schedule in 2014 in concert with the WSOP and ONE DROP, where the biggest names in business and poker are expected to battle once again for a $40 million plus prize pool and a first place prize worth more than $18 million.
About ONE DROP
ONE DROP—a non-profit organization established in 2007 by Guy Laliberté, Founder of Cirque du Soleil—strives to ensure that water is accessible to all, today and forever by developing integrated water-access and management projects around the world. In the U.S., ONE DROP is a public charity that undertakes innovative activities in which water plays a central role as a creative force to generate positive, sustainable change worldwide. To learn more about ONE DROP, visit ONEDROP.org. Be a part of the conversation on Twitter by following @onedrop and @allinfor1drop.
About the World Series of Poker
The World Series of Poker (WSOP) is the largest, richest and most prestigious gaming event in the world awarding millions of dollars in prize money and the prestigious gold bracelet, globally recognized as the sport's top prize. Featuring a comprehensive slate of tournaments in every major poker variation, the WSOP is poker's longest running tournament in the world, dating back to 1970. In 2013, the event attracted 79,471 entrants from 107 different countries to the Rio All-Suite Hotel and Casino in Las Vegas and awarded over $197 million in prize money. To learn more about the World Series of Poker, visit WSOP.com.
About CAESARS' CODEGREEN
Caesars Entertainment believes that the problems facing the planet demand real action today. The company's CodeGreen initiative provides tangible low-carbon solutions to reduce water, energy and waste consumption at all Caesars resorts. CodeGreen enhances the first-class experience of Caesars Entertainment guests, creating healthier, cleaner communities around the world. More than 200 Caesars Entertainment employees have completed Caesars' CodeGreen Meetings & Events Certification training program.
CodeGreen has won more than 50 prestigious environmental awards and certifications, including the Silver IMEX Green Supplier Award and ten Travelife Gold property certifications. For further information on CodeGreen and to view Caesars Entertainment's sustainability report visit www.caesars.com/codegreen or visit the CodeGreen blog at www.codegreen.harrahsblogs.com. Be a part of the conversation on Twitter by following @cetcodegreen (#caesarscodegreen), and liking us on Facebook at www.facebook.com/CaesarsEntertainmentCodeGreen.
Media Contacts:
Seth Palansky, VP, Communications, WSOP, (702) 407-6344 or [email protected]
Pien Bowler, Communications Manager ONE DROP, (702) 207.9093 or [email protected]
Seth Palansky
Vice President, Corporate Communications
Caesars Interactive Entertainment, Inc.
One Caesars Palace Drive
Palace Tower Executive Offices
Las Vegas, NV. 89109-8969
Office: 702-407-6344
Fax: 702-880-6802
Email: [email protected]
Twitter: @SethPalansky