A Libertarian Point of View From Greg Raymer Audio
In the past two years, Greg Raymer, has experienced the full spectrum of emotions. In 2012, he was experiencing a poker renaissance as he won a record-breaking four Heartland Poker Tour (HPT) Main Events. It was a feat that was deemed worthy of being selected by PokerNews as one of the top ten poker highlights of the year.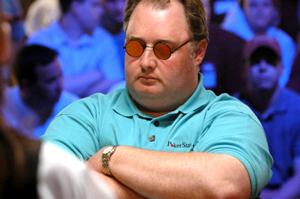 Then, instead of pushing on from that point, Raymer cascaded into an all-time low; and when it came it had nothing to do with poker. On March 14th, 2013, Raymer was amongst six men who were arrested in a prostitution sting at a hotel in Wake Forest, North Carolina. Raymer was an inspiration for a large number of people, including his family, and he acknowledged that he had let them all down.
But rather than hide away and quietly lick his wounds, Raymer sucked it in and came into the World Series of Poker (WSOP) with a business as usual attitude. It hasn't been the greatest of series for him, after only cashing in one event. But you sense the series has been a victory in a completely different sense. When I approached Raymer for the interview he was embroiled in conversation after conversation with the passing public about life, poker and the Blue Shark Optic Sunglasses that he was advertising. I lost count of the number of people who stopped and asked if they could have their photograph taken with him. For all intents and purposes, this man has been forgiven his trespass.
"I drew a great table. Nobody at my table was an above average player. It wasn't that they were bad, but relatively predictable, which is a great thing. For the first level and a half, everything was tight, and I was making huge hand after huge hand but not winning hardly anything. Then a new player joined the table. He was drunk, loose, and aggressive and played a lot of hands. The table changed completely. It became a greater table to accumulate chips but I just couldn't make a hand at all. That was the story of the day." Said Raymer when discussing his Day 1B exit from the Main Event.
Raymer is a talkative chap. He didn't want to discuss the circumstances and fallout of March 14th, but everything else was pretty much on the table. He seems like a man who knows where he stands. He has beliefs and convictions and knows them well. I asked him why his country could say that poker is not a game of skill, ban online poker and then advertise the Global Poker Index (GPI) in the sports section of USA Today?
"We have too much of a puritan history. A lot of people believe that morality should be guiding politics, and because of that we still have issues where we have people believing that the government should be stopping what they consider to be an immoral activity, which is gambling, said Raymer, "Politicians don't give a damn, but will side with this mindset in order to get elected and re-elected. Most Americans enjoy the game of poker, or don't play but don't care if anyone else plays. Then we have a few people who think it's immoral.
"Most politicians are two-faced. They need to focus on winning elections. If they can't win an election then they are not doing their job. It has nothing to do with doing the right thing, intelligence or working hard for your constituents. It's all about what do I need to do in order to get more votes and win the next election? So if this means believing in the values of a certain group, just to get votes, even if my views oppose it, then that's what we will do."
Raymer is a libertarian and I was curious to hear his views on his belief system.
"The basic idea of libertarianism means you believe that any adult should be able to do anything they want as long as they are not directly hurting another human being. If you want to go home and do crystal meth – I might think you're an idiot – but as you are an adult you can do what you like. It's the government's job to protect us from others harming us directly.
"Morality as nothing to do with it. Murder would be illegal under a libertarian point of view, but not because it's immoral. It would be illegal because you are harming someone else without his or her permission. But if you want to do S&M and get the whips and chains out, since you are consenting adults the government should have nothing to say about it. But if you do it in public, then the line is crossed, because children could see this and then children can be harmed as a result of this."
I sense this is a topic that is very close to Raymer's heart. He's in full swing and there's no sign of him stopping, something I am glad about, because I find him extremely interesting. I can imagine he would be a great dinner guest: controversial, opinionated, funny and respectful.
"There are people who believe that you should not seek medical help, when ill, but instead pray to God. The libertarian view supports the ability to make this choice, but the area gets very grey when children are involved. Are we going to allow you to do that to your child? They are not old enough to make that decision.  Also, at what point should the government step in if your are mentally incompetent. You are an adult, but if you have a mental illness, or a low I.Q, then do we need the government to protect them from harm?"
The conversation went from the grey area of the child to the vile minds of some of the most heinous characters in history. Raymer believes that people like Adolf Hitler believed they were doing good at the time they were committing genocide. That people like Hitler believes they are doing good, even if they need to complete an evil act to reach that goal.
"Hitler probably didn't think he was a bad guy, but we obviously judge him otherwise", said Raymer, "I feel that these people who are trying to enforce their morality onto the rest of us are also doing evil, but they just don't know it. Their hearts are in the right place but they are actually committing evil in the name of good."
The last topic of conversation turned to the Poker Players Alliance (PPA) and online poker in the United States. I asked Raymer what could the American poker community be doing to help the politicians fight harder for a federal answer to our online poker issues. The answer was infuriatingly simple.
"The simplest, and most effective thing, American poker players can do is partake in Rich Muny's daily action plan. Go to the 2+2, Pocketfives or theppa.org and you will find Richard Muny's daily action plan. You click the links and they will pre fill a tweet and all you have to do is click a button and that might send a tweet to a particular member of congress saying you support a piece of legislation or something like that. Just go to the daily action plan, click, click, and click…30-secs to a minute per day and you are helping.
"We get 500-1000 people per day who do that and it has made a huge difference. And yet we still have a hard time convincing people to do it. There are millions of American poker players who want online poker back. If we had a million people doing this the politicians will be kissing our arses so quickly to give us whatever we wanted it would be unbelievable. What drives politics is votes. If the poker players did this daily action plan in large numbers, the politicians would realize that these millions of people are going to vote me in or out of office.
"Its amazing how many poker players come up to me asking when are the PPA going to get online poker back? It's not the PPA's job it's the players. We are just the voice. We are putting it all together for the poker players. But ultimately it's up to them."
Comments