His head is on the game, and his trademark black fedora is on his head. When I first started working as a live reporter I loved people like Nicolas Levi. The players who always had something about the way they looked or dressed that made me remember who they were.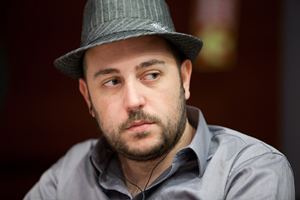 So Levi had his black fedora, but he also had a wonderfully charming personality. Another reason why I always remember him after I wrote the first of my million 'folds.' I realize that I say this about everyone that I interview, but I tend to steer clear of the dicks, so I guess this is always going to happen.
I notice that his fedora has changed. There are a few badges pinned to the left hand side. One of them says, "Super Dad," and it reminds me that Levi has just become a father for the first time.
"It's pretty incredible. It changes everything," Levi says when I ask him about the experience of becoming a father, "My daughter is two-months old and I haven't played poker for three-months. This is my first tournament since my daughter has been born, and it's strange because I can't wait to get back home, but equally love doing what I do. The birth puts everything into perspective and I am trying to use it as a motivation: I am fighting for her basically."
We are walking outside into the baking heat of the Las Vegas sun. Levi is flanked by his Winamax teammates: Ludovic Lacay, Manuel Bevand, Gaelle Baumann and their respective media team. But we are missing Davidi Kitai…maybe he's at home making babies?
"Davidi Kitai told me that this year, he is going to have a kid so next year so he can win three bracelets in a row."
Levi is joking of course, but there is a hint of realism about the throwaway comment. If you are a professional poker player then getting your shit together off the felt is a sure fire way of helping your game on it. Levi is not the first person I have interviewed this summer, who is finding success on the felt after a period of love and wonderment off it.
"I don't believe in karma so much but it's making me think…"
There are 13-players left in Event #56: $2,500 No-Limit Hold'em (NLHE) and despite the presence of the likes of Owen Crowe and Josh Arieh, you have to push Levi up there as one of the favorites. He's a busy boy. Not only is he learning to change nappies and running deep in poker tournaments, but he's a businessman also.
"I am pushing forward with a new project called Ranking Hero. It's going to be a mix between poker rankings and Linkedin. Like a professional social network where people can say what they have accomplished in the poker community. We are trying to bring the amateurs and professionals closer together and when the site is launched people will see that it is something creative and very fun."
I left him in the baking heat and as I turned around to close the door, he was laughing and joking with his teammates. Strain and stress was nowhere to be seen. The man had his cake and was devouring it. He had the world in the palm of his hands, and he knew it.