The Hendon Mob live tournament database can be a very dangerous place to tread if you want to evaluate how much money a poker player has actually earned in profit. If you don't believe me then just ask a poker player from Sweden as they try to explain this fact to the taxman.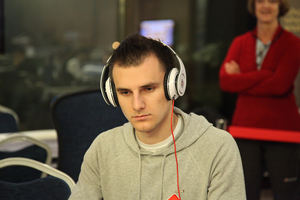 A great case in point is the Russian superstar Andrey Pateychuk. In 2011, he was crowned the Rookie of the Year at the European Poker Awards after finishing 15th in the World Series of Poker (WSOP) Main Event for $478,174, taking a European Poker Tour (EPT) San Remo title for $937,530 and a World Poker Tour (WPT) Prague title for $599,720. In total, his live tournament earnings for 2011 reached $2,085,014. So you would have thought his life would have been turned on its head right?
"Nothing changed really. I helped my parents by buying them a home, but apart from that I continued to grind."
Pateychuk's delivery has a single tone seriousness to it.
"I wasn't playing for myself so I didn't get a lot of money from the big results. I was staked and these events. That's why nothing changed for me. When you are playing the highest stakes online, and live, there really is no difference between a $100k and $300k bankroll. The only thing that changes is how much you sell of yourself."
Pateychuk's story is a great one. He was attracted to poker after his countryman, Ivan Demidov, finished second to Peter Eastgate in the 2008 WSOP Main Event. He learned the game from his friend, opened an online account with a free start up package from PokerStrategy and combined playing $1 Sit n Go's with €1/1 cash games in his local casino.
"I was very successful in the live cash games, in particular, and won €25k in my first month. After a few months I moved entirely online and played MTT's. I find grinding cash boring and prefer MTTs because there is more competition."
So Pateychuk came from nowhere to come close to the ultimate Triple Crown in just two months of competition. But the following year just showed how much of a bitch this game can really be. Pateychuk decided that his string of successful performances would continue into the 2012 WSOP. A view that would prove to be way off target.
"I had a huge downswing in live events in 2012, especially at the WSOP. I lost $200k in the last WSOP. I didn't even make one-second day in a single NLHE event. I also bought a lot of pieces in the WSOP, for well over $100k, and I didn't have a single score. Everything went wrong."
As painful as it must have been for Pateychuk, it was refreshing to hear him talk so candidly about his horrific turn of fortune. We all know that this exists in the game, but very few poker players like to talk about the darker side of poker's shade. The poker world is full of stories of players running a bankroll from nothing to a million, but how many of us can relate to the guy who wins, gets a good thing going and then loses the lot as soon as the stakes are raised?
"The WSOP in 2012 was almost all of my own money. I continued to sell for almost all of the EPT's, but for the WSOP I decided to take the risk. I thought the worst-case scenario could be $50-60k. If I had lost that I wouldn't have cared about it. But minus $200k is very sick indeed."
But his turn of fortune has not effected his ability to remain a part of the poker circus. There are still plenty of people looking to take a piece of Pateychuk's action, especially back home in his motherland.
"I'm not backed these days, but continue to sell pieces. For this WSOP I just sold a package for the whole event. There are lots of people who want to buy pieces of my action. Even if I don't want to play an event people will still urge me to play and back me."
One of the things that always strikes me about Pateychuk is his great sense of fashion. He always makes an effort to look his best whenever I see him, something a large quarter of the poker world could learn some lessons about, especially when it comes to TV coverage.
"It's important for me to look good everywhere I am…not just for poker. I dress for me, not for the people around me and I also like it when people around me looks good. If you are sitting at home watching poker you want to see beautiful pictures. I think it's important for poker players to look good especially when they are on television."
Back in 2011, Pateychuk was looking good whilst winning good. Let's hope his 2012 downswing is a thing of the past, and we once again see him turning fortune his own way.