The World Series of Poker (WSOP) has been rushing through Sin City like a hurricane for the past 44-years. As each year passes into memory the poker community will remember the names of the players who made it another magical moment; but what about the blood and guts of the WSOP? The unsung heroes who work tirelessly to make sure the event runs as smoothly as possible.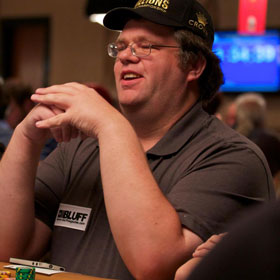 WSOP Blood and Guts is a series of articles honoring these people. The men and women that work tirelessly behind the scenes to make sure that the WSOP continues to be the greatest poker event in the world.
Men like Kevin Mathers: The Social Media Master
Social media has become a key component in any modern business. Not only is it critical for the growth and marketing of a company, but it's also a key part of the day-to-day operations, as more and more people turn to the Internet when seeking for answers to so many questions.
The world of poker has a spider web of social media connections that have one thing in common. A shy, self-confessed nerd called Kevin Mathers. The social media kingpin of the poker community.
I used to think that Mathers was artificial intelligence. A computer program that someone had created. Binary sequences that contained the answers to every poker question you could imagine. So it was a pleasant surprise to meet finally meet the man in the flesh when our paths crossed two years ago. A kind, warm hearted, humble poker encyclopedia.
"I have been doing the social media stuff for about seven years, but I never found my way to the WSOP until 2010. Up until that point I was blogging for a site called Pokerati and I would create posts called 'From Outside the WSOP,' but I desperately wanted to sample the real thing." Said Mathers as we spoke in the halls of the Rio.
Despite working for many years on the periphery of the WSOP, the work that Mathers did was still as important as anyone else integrated in the WSOP. He is fast approaching 18,000 Twitter followers, a position that prompted Bluff magazine to create the position of Poker Information Manager. Quite simply, when people want a poker question answered they ask Kevin Mathers.
"I finally got the opportunity to work at the WSOP in 2010. I worked for Bluff at the final table of the Main Event, the year Jonathan Duhamel won. I had wanted to be here for so long, so when I finally got the opportunity it was amazing."
One of the reasons Mathers never got here earlier was his crippling shyness. Quite amazing when you think about it. Poker's social media monster is one of the quietest, shy and socially awkward people you could meet. From behind the computer screen Mathers ruled supreme, but once he stepped out of that front door everything changed.
"I had this social barrier where I just couldn't break through. I was scared. I'm a very quiet and shy type of person. It's the way I had been for so long that I had built a wall around myself, " Said Mathers before continuing," I couldn't live with my Mum forever. I am 42-years old now. I had to break free of the chains I had fixed onto myself. I was holding myself back. Nobody else. Just me."
He reminds me of Paul Scholes, the ginger headed star of Manchester United. The little genius was a master of his art, but stick him in front of a TV camera and he would turn to jelly. He wanted no part of it. All he wanted to do was play football. With Mathers it was the same. For so many years he was in his element providing people with the information they needed. He didn't have to talk to anyone, didn't have to learn how to overcome his lack of skill in the verbal communications department.
"Poker is my life. It has become the way that I have learned to communicate with people. For some people it's playing, but for me it's learning to break free from my socially awkward chains. I have information that people want and this fact has helped me feel good and to learn to fit in and mix."
Mathers is just part of the furniture these days. What I love about him is he is a great role model for anyone who has a dream. He never wanted to become the world's greatest poker player. All he wanted to do was to be part of the community that he loved, and to work at the greatest tournament in the world, and last year he played in the main event. Who helped get Mathers to where he is today? Kevin Mathers helped Kevin Mathers. One twitter follower became two and before you knew it he had over 17,000. That's a skill, that's an art and that's desire, blood, sweat and tears.
"Jonathan Duhamel had just won the WSOP Main Event and here I was…this kid from Syracuse New York…who four months earlier was a nobody sat in his bedroom typing on a computr. But now I was standing in his suite whilst everyone was going crazy. I was in the presence of the world champion in his crowning glory. I had a very small part of that, and in my opinion that's pretty cool."
I think your pretty cool.