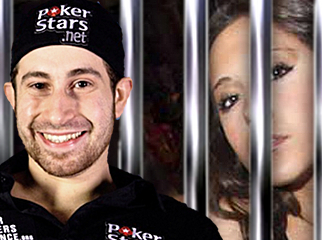 Bianca Rojas-Latraverse, the former girlfriend of 2010 World Series of Poker champ Jonathan Duhamel, has been sentenced to 42 months in jail for her role in the brutal beating and robbery of the poker pro just days before Christmas 2011. Rojas-Latraverse has already spent 18 months in custody, leaving her with 24 months left to go, which will be followed by three years of probation. Following Tuesday's sentencing, Rojas-Latraverse's attorney Sarah Desabrais said her client hadn't ruled out the possibility of an appeal. "We lost the battle, but we didn't lose the war."
On Dec. 21, 2011, Duhamel opened the front door of his Montreal home to what he believed to be a FedEx employee. Instead, two men forced their way inside, after which they proceeded to tie up Duhamel, beat him and relieve him of around CDN $40k and €74k in cash, as well as his WSOP championship bracelet and a $10k Rolex watch PokerStars had presented their sponsored pro to commemorate his WSOP triumph. (Both the bracelet and watch were later recovered, although the bracelet was severely damaged.) Rojas-Latraverse and three other suspects were subsequently arrested and charged with offenses including breaking and entering, assault and forcible confinement.
In September 2012, Rojas-Latraverse pled guilty to breaking and entering, kidnapping and conspiring to commit robbery. In sentencing Rojas-Latraverse, Judge Anne Marie Jacques cited the defendant's lack of remorse as justification for extending her residence at the government's expense, saying it was clear that Rojas-Latraverse had "wanted to take revenge" on Duhamel. Andres Valderrama, the gang's getaway driver, also pled guilty last year, while the actual home invaders – Anthony Bourque and John Stephan Clark-Lemay – are fighting the charges (and reality, apparently). A fourth suspect, Andre Perron, was charged with possession of stolen property.
Duhamel has yet to comment on the sentencing, but here's a likely preview…
Comments