When you say the word 'Sweden' it conjures up images of smoking hot blonde women hanging around in Jacuzzis smoking cigars. Well that's what goes on inside my head. But the guys aren't bad either. Take Martin Jacobson for example. The young Swede has a chiseled jaw that Patrik Antonius would be proud of, his nerdy glasses hand him a chic-nerd look that the chicks dig, his strong arms show that he looks after himself and he has earned over $3 million in live tournament earnings. Yeah, there are worst people to want to be when you grow up than Martin Jacobson.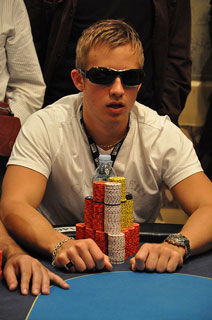 In 2010-11, he grabbed the European poker circuit by the balls and swung it around his head with relatively little fuss. Money flew everywhere – most of it into his pocket – but the title always eluded him: second at EPT Vilamoura, second at EPT Deauville, fourth at EPT Berlin, sixth at WPT Paris. If you add that to the third place finish at EPT Budapest in 2008, second place finish at WPT Venice in 2009 and the fourth place finish in a $1.5k at the WSOP in 2010 one could argue that he is the greatest European poker player never to win a major.
"I went on a really good run in 2011. That obviously boosted my confidence. I think I played a little more aggressive and reckless, and I was running well also. Nowadays I tend to be a little more cautious and try to adjust better. Adjusting to the table, the players and overall…just adjusting better to the game." Jacobson told us during a break in the One Drop High Roller Event.
Despite winning $3m in his career, the price tag of $111,111 falls outside of the bankroll capabilities of the Swede. But a man of that sort of talent is never going to be short of backers.
"I wouldn't be able to fund the buy-in myself so I sold some pieces and hopefully I can bring my investors some success."
But is it really worth the entrance fee? When you look around the room it's difficult to find too many soft spots.
"There are some," says Jacobson. "There are a couple of amateurs that are contributing to society…so that's nice."
It's just a shame that none of them are seated on the Swede's table, as he dukes it out with Tobias Reinkemeier, Dan Smith, Jason Mercier, Matt Waxman, Vanessa Selbst and Erik Seidel, and yet to look at him he doesn't care. And with a perfect jaw like that…we can see why.