Yesterday, I was fortunate to speak to the poker player and entrepreneur, Faraz Jaka, and today I continue that trend by speaking to Dan Fleyshman. A poker player, entrepreneur, philanthropist and genuinely down to earth nice chap.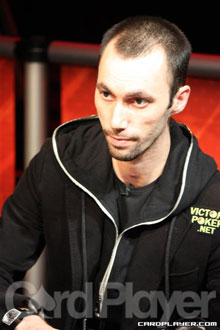 In a business where bankroll management is so important, the likes of Fleyshman and Jaka are excellent role models. It makes sense to have multiple streams of income, so when the poker is not going as well as it should, there are other interests to stimulate you and to provide you with a different way to pay the bills.
"I am the Director of Gaming at Engage:BDR and I hire and train for a company called Mopro. We have just raised $21 million and hired 170 people and I am training them how to sell. It's been going so well that they keep hiring every week so I have to keep training, which means playing less poker. Poker is a passion for the long run. But there are some business things I will like to get done before I settle down and play poker." Said Fleyshman.
The man is not short of a bob or two and I expected him to be playing in the One Drop High Roller. Instead, Fleyshman was railing his horses because, 'If I can't have my head in it, it wouldn't work out for me.'
It's easy to see how Fleyshman's head isn't in it because he is just so goddam busy. When he isn't hiring and training for Mopro, or sleading from the front at Engage:BDR, he is heavily involved with his charitable organization: the model citizen fund. A non-profit organization that raises money for the homeless and is the charitable cause that accompanies the WSOP when it heads into European waters.
"My charity is called Model Citizen Fund. We supply backpacks for the homeless. The backpacks are $100 and every penny goes to the homeless, which is important to me. I know I can't cure cancer, I can't cure aids and I can't raise billions…but I can raise millions and help the homeless feel human again. It's my passion project and it makes me feel great."
We talk about the poker community and backing in general, which is an apt conversation considering we are sat just yards away from the One Drop High Roller event.
"The poker community does contain less money…that's true, but the backers aren't going anywhere…. maybe 50-80 backers who have seven figures tied up on Full Tilt. But the business guys are still backing and the High Stakes players are still taking huge chunks from each other in the big tournaments," says Fleyshman, "There are people in this $111k that are buying big chunks of each other for a one off event where 100 of the 150 players will be top pros. The poker community is going to keep going. It's not going anywhere."
Let's hope that's true Dan…let's hope that's true.