WSOP Blood and Guts: The Sideline Reporter Audio
The World Series of Poker (WSOP) has been rushing through Sin City like a hurricane for the past 44-years. As each year passes into memory the poker community will remember the names of the players who made it another magical moment; but what about the blood and guts of the WSOP? The unsung heroes who work tirelessly to make sure the event runs as smoothly as possible.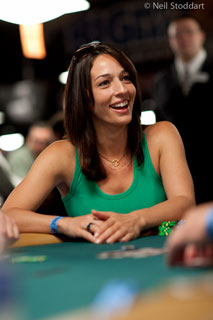 WSOP Blood and Guts is a series of articles honoring these people. The men and women that work tirelessly behind the scenes to make sure that the WSOP continues to be the greatest poker event in the world.
Women like Kara Scott: Sideline Reporter.
The ESPN coverage of the World Series of Poker (WSOP) is one of the most important ingredients in the primordial poker soup. It's impossible to put a figure on the number of new poker players that have been indoctrinated into the game through the amazing coverage that shines through the TV screens from the ESPN cameras. Numbers that no doubt quadrupled, when in 2011, Poker Productions signed Kara Scott in the coveted position as Sideline Reporter for the world's most prestigious poker tournament – the WSOP Main Event.
"I really love my job and I love the adrenaline of doing it all live." Says Scott as she takes time out from railing her good friend David 'Bakes' Baker in the final of the $10,000 No-Limit 2-7 Draw Lowball.
As I approach her for the interview she is sitting in the arena she prowls around so often in her capacity of sideline reporter. Her delectable dress, and high heels, has made way for pure unadulterated comfort. But this is a woman who would look great in a black plastic bag, and looking good is one of the reasons she excels in her job. Quite simply, when Kara Scott is on the TV, people tune in to watch.
If you are fortunate to watch Scott in action during the WSOP Main Event you will notice much more than long slender legs, kick-arse figure and beautiful face. This is a woman who epitomizes hard work. Like the Duracell bunny she just never stops. When she isn't talking to poker players, or the family or friends of poker players, she is talking to herself. If you didn't know what she was doing, you would swear she was insane.
"I work really hard. When I am working I don't go out. I'm not drinking. I'm focused. I want to do a good job. I hate not looking like I don't know what I am talking about…and I hate asking bad questions."
A lot of people pigeon Scott as a professional poker player, and after finishing in 17th place in Event #40: $1,500 No-Limit Hold'em, out of a field of 2,161-players who can blame them. But despite taking her poker very seriously in her role as Ambassador for PartyPoker, her role in front of the TV camera is what she calls her day job.
"There are over 2k in the event and before you play you think a cash would be nice. But when you get that deep – and bust in 17th place – you really start to taste the final table…you start to taste the bracelet and losing two massive flips just killed me. Poker can go either way…but obviously I'm very happy with my performance."
In her role as a Sideline Reporter, Scott's sweat, and sometimes tears, helps to push the WSOP Main Event into the living room of every poker fan around the world. The few minutes of pearly whites the net result of 15-hours a day of hard graft, determination and absolute dedicated professionalism. Everything that the WSOP embodies and why it is such a unique experience for anyone that touches it.
Can you imagine the pressure that is heaped onto her shoulders when the camera starts rolling? There are no rebuys in her game. She has one chance to get it right and if she doesn't then over a million people are going to see her fall flat on her face. That's a tough situation to find yourself in, but one that she finds gratitude in every single day of her life. She loves it, and we love her for it.
Kara Scott is the blood and guts of the WSOP.
Comments