I have been coming to the World Series of Poker (WSOP) for the past three years and I always get annoyed when I am repeatedly warned by the dealers to speak English when at the tables. I only speak English…it's the only language I know.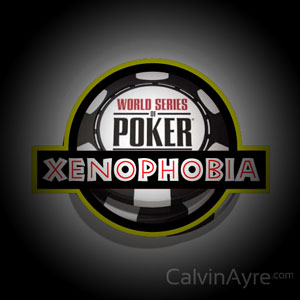 "Well can't you try and slow it down then boy…otherwise we will have to ask you to leave." Said one utterly confused dealer in the Bally's poker room when I tried unsuccessfully to explain my predicament to him.
So I wasn't surprised in the slightest when I read reports that there were complaints emanating from Event #29: $5,000 H.O.R.S.E that some players were speaking in Russian whilst at the tables. I mean, if dealers believe my dialect is foreign then Russian must really screw them up.
However, it was surprising to learn that the Russians would only converse in their foreign tongue when not involved in a hand. Fortunately, after the relevant WSOP personnel were called to make a ruling, they concurred that the Russians can speak in Swahili as long as they aren't involved in the hand.
"I think that if they are not in the hand they can talk in any language they want. It's no different to texting someone across the table in between hands." Maria Ho told PokerNews reporters.
I support the argument put forward by Ho because there really is no difference between talking in a foreign language at the table, or getting up and moving away to talk in a foreign language, if the only concern is the players are talking in their native tongue with a view to gain an unfair advantage.
The World Series of Poker contains the word 'World' and the organization prides itself on attracting poker players from all over our globe. So what about the unfair advantage that a non English speaking player will get when seated at a table full of English speaking players? There really is no difference between the two arguments.
Whilst not being a polyglot I am someone who has a propensity to open my gob before my mind has fully engaged. I have put my foot in it on so many occasions, but it's very difficult to change a habit that has been formed over many years. The same must be true if you are bilingual and are being reminded to speak in one of your second languages. Surely, you will continually forget, and this should not be taken as a sign that the player is being rude and not listening to his instruction to speak English.
"It does affect the game emotion and it's a little bit disrespectful. The rules state clearly that you can step away from the table to have your conversation." Marcel Luske told Pokernews reporters.
Talking whilst players are in the hand is disrespectful irrespective of what language you speak. Surely, it's the decibel level of the noise that becomes the prime factor in these instances and not the selection of language?
"You can't talk in different languages while someone else is in the hand. It's like when I talk when someone is in the hand…I annoy people. It's like the new shuffle machines. They are annoying." Said Mike Matusow.
So if you compare a full-blown Phil Hellmuth, or Mike Matusow, moment to a Russian conversation, then, which is the more annoying? Once again I will side with decibel level and tone and say that the blow-ups are more annoying and disrespectful that a conversation in a foreign language. But the blow-ups are part and parcel of the game. It's part of the energy that makes poker so exciting. But the global appeal of poker is also part and parcel of the game. We need players from all over the world converging on the WSOP because more people, means bigger fields and more money.
Everyone knows that we don't want to scare away the fish and so we shouldn't berate them; but we don't want to scare away the foreigners who can't speak a word of English either. They are just as important to our game, and so I am glad the WSOP upheld the players right to speak in whatever language they want to and that includes shuffle machine language.
Really Mike…