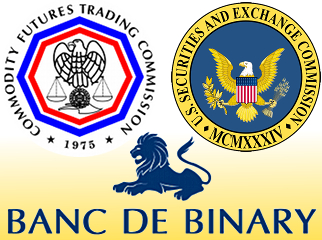 Online binary options trading outfit Banc De Dinary Ltd. (BDB) has been slapped with lawsuits by US stock regulators for offering services to US residents without the necessary licenses. Both the US Commodities and Futures Trading Commission (CFTC) and the Securities and Exchange Commission (SEC) filed civil suits in Nevada federal court this week, charging the Cyprus-based BDB with violating the US ban on off-exchange options trading, and operating as an unregistered Futures Commission Merchant from mid-2011 to March 2013. The federal agencies are seeking monetary penalties and an injunction barring BDB from having any further dealings with US customers.
Binary options involve traders placing call or put options on items like stocks, commodities and currencies, with a cash payoff if the commodity's price behaves the way the trader predicted. Should the commodity's performance not match the trader's prediction, the trader loses his 'wager,' making the option an all-or-nothing yes/no proposition. Binary options have fixed payouts and the window of time in which the result becomes known can be much shorter than traditional long or short options.
This week's lawsuits are the latest move by US securities watchdogs to stamp out overseas competition. In November, Dublin-based prediction market Intrade was hit with similar legal action, prompting the company to withdraw from the US market. The subsequent drain on Intrade's business – coupled with some internal accounting chicanery – forced Intrade to abruptly shut down in March, and customers are still awaiting the results of a proposed bailout.
Both the CFTC and SEC issued alerts to investors warning them of the supposed dangers of dealing with off-exchange prediction and binary option markets, although the chief danger these markets' customers face appears to come from US regulators themselves. The case studies cited in the civil complaints filed against BDB don't actually accuse the company of fleecing any US customer out of any funds, merely that they weren't operating with the blessing of US regulators. Which is somewhat ironic, considering that these same regulators have steadfastly refused to authorize new prediction markets, although for some reason they've yet to crack down on the Central Intelligence Agency's cyber security market. Curious, that.