I first came across Xuan Liu, 27, during Season IX of the World Poker Tour (WPT) when she sat down to play in the oldest casino in the world – the Casino Di Venezia, in the heart of Venice.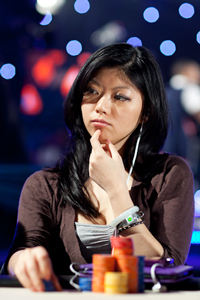 She was a head-turner, of that there is no doubt, and she got a lot of camera attention straight off the bat. She was extremely congenial, very knowledgeable about poker and had a steely determination to make her name in a tough industry for people missing the 'Y' chromosome.
Just two months later and Liu was finishing in third place at the European Poker Tour (EPT) stop in San Remo for $524,705, and then in January 2012 she followed up that impressive score with a fourth place finish in the PokerStars Caribbean Adventure (PCA) for $600,000.
Xuan was born in TianJin in China, but grew up in Toronto Canada, and I caught up with her recently to gauge her opinion on the Asian poker market.
Talk about your first memories of gambling?
I remember watching my grandma and various ladies in the neighborhood courtyards playing mahjong when I was quite young. I was always interested in the romanticized elements of gambling culture, especially when the Hong Kong movie series, "God of Gamblers" became popularized when I was about five. Andy Lau and Chow-Yun-Fat were some of my favorite actors growing up, and they made the lifestyle seem really fun and glamorous. I learned my poker rankings and used to set up hypothetical hands with my stuffed animals and analyze what each player would do in various situations while having only access to appropriate limited information.
When did you advance from stuffed animals to real live people?
I was attending the University of Waterloo with a full scholarship during the Moneymaker boom. Math, engineering, and computer science are known to be Waterloo's strongest disciplines, so it was natural that many of its students got together several times a week to play cash games in the freshman cafeteria. My friends also organized weekly multi-table SNGs that I used to be the biggest winner in. It was so easy for me to get ahead of the curve because I had a profound interest in the game and would read every book I got my hands on cover-to-cover, always anticipating to practice these theories and skills in the next game. I eventually started my own home game with the help of some friends in third year. I ran it like a business by raking, running promotions, and having professional equipment to keep the players happy. Needless to say, it was taking up a lot of my time and I was unable to keep up my studies between running the game, playing low-stakes limit at the charity casino, and grinding World of Warcraft.
I've always been very independent and was pretty ambitious when I was younger, from making money on my own fairly early on to always finding more efficient ways of getting the job done. I was also super idealistic and a huge dreamer, so the poker lifestyle was incredibly compatible with my personality. My parents didn't acknowledge or understand how deep I was into the game until fairly recently. My mother even gave me an ultimatum to "accomplish something grand" or quit the game for good when I first started playing live MTTs in 2010. The whole poker phenomenon kind of just fell into my lap with consistently impeccable timing, and it never really gave me a reason to stop.
Do you remember having a particular light bulb moment when you were first learning?
The great thing about the game is that you will hit so many Eureka's! along the way, and there really is no ceiling. I was a casual player for a long time, and my first light bulb moments, transitioning from a recreational player to having poker as my primary source of income, were probably from noticing there was a direct correlation between time/energy and profit. Of course, there are mini triumphs every step of the way, from learning how to C-bet to understanding common angle-shoots.
I can see from your results that in 2010 you had some time in Macau. How was the Macau experience?
I stayed at the Grand Lisboa, still one of he nicest suites I've ever been in. A fellow Canadian player and I shared a room after both winning satellites on PokerStars, and since I was in China visiting family I invited my cousin along with me. She spent a lot of time visiting temples and exploring unique Macanese cuisine while I spent 4/4 days making two day two's and playing tournament poker. I final tabled the preliminary event and cashed in the Macau Cup main event for a reasonable trip. I also played a few hours of cash games going into day two of the prelim event to get a feel for the competition I'd been hearing so much about.
What were the games like in Macau three years ago?
I don't think it was a big enough buy-in for a lot of the bigger pros to attend, and the higher cash games were held at another casino. I was still a cash player at the time, unfamiliar with tournament poker and its regs, but I did notice the presence of PokerStars Team Asia pros like Celina Lin, Bryan Huang, and Raymond Wu.
What were the local players like?
It's pretty amusing playing with players in Asia because most of the locals understand English and are at least bilingual, and the obvious foreigners are often at a disadvantage. Like in many local casinos, the players were also somewhat cliquey, and since poker was a pretty new game in the region when I was there it was a little like going back in time, listening to all the thought processes and misinformed strategy being passed around the table. There are also often a lot of whales on vacation just to have fun and gamble, so there are certainly several interesting dynamics going on.
Why do you think Asian people like to gamble so much and why do they seem so attracted to games of luck?
To be fair, there are a lot of Asian people on the planet! Not all Asians love to gamble and probably just as many are morally against it and/or risk-averse. Having said that, there are a lot of Asians who are incredibly superstitious since musings on luck is inherently embedded in traditional Chinese culture. There are still many New Years traditions, lucky and unlucky numbers, and marrying one born under year of the dragon or having a dragon baby is thought to be a major blessing.
In 2013 you came close to winning the APPT in Seoul. Talk about your Korean experience?
I've always loved Korean food so it didn't take long for me to decide to play the APPT satellite on PokerStars. I won and flew to Asia for a week, got excited when Joseph Cheong said he'd be there as well, and met some other MTT regs at the event. I ended up finishing fourth in the main event, but had a blast exploring Korean landmarks and having delicious traditional delicacies and KBBQ. The Asian poker community was super-hospitable and I had a nice mini-vacation.
How was poker received in Seoul?
Korea is a world leader in professional gaming, so it certainly has a solid foundation to welcome the poker industry in full force. Perhaps someday it will be as popular there as Starcraft!
Is there is a different vibe in Seoul because gambling is prohibited for the locals unless playing in the Gangwon province?
It was pretty similar in Macau, since poker is not permitted in most of Mainland China. The majority of the patrons in the casino appeared to be either Chinese or Japanese, but our Korean hosts were nonetheless very hospitable.
What is your opinion on the fact Koreans are not allowed to play in casinos and yet foreigners are? Do you see this changing?
I can understand why local legislatures would want to segregate the economic and social impact that poker tournaments and other forms of gambling bring, and since it is a relatively new industry I am confident there will continue to be growth and more compromising solutions in the near future.
What were the players like when compared to Macau and how did the game compare?
Although I have only been to two major events in Asia, it appears that there is some consistency in the fan base, types of recreational gamblers, and tournament regulars who frequent these stops. I would say the field in Seoul was comparable to that of Macau, but since the latter is such a popular destination for all things gambling it will always attract more numbers and draw more casual players. I suppose its kind of like comparing Florida poker to Las Vegas.
Have you played anywhere else in Asia?
I'm sad to say I haven't been to nearly enough Asian countries to know for sure, but the vibe I get from the stops I've been to is that the game is drawing players of every nationality and demographic. Of the Team PokerStars pros Bryan Huang is from Singapore, Raymond Wu is from Taiwan, and there are many thriving poker events currently in the Philippines, so I would assume once their governments realize this could be a regulated industry a lot of doors will open.
Who are the best Asian poker players in the world and why?
John Juanda and Joseph Cheong are probably currently the most active and play the highest-level tournaments at this time and have consistently been top-ranked in the world. There are also many younger and lesser-known grinders like fellow Torontonian Andrew Chen who have perfected their craft. Also can't forget notables like JC Tran and Nam Le who crushed an era, female pioneers who endured many obstacles to be where they are today like JJ Liu and Liz Lieu, and of course old school legends like Johnny Chan, Chau Giang, Scotty Nguyen, and David Chiu who helped shape the poker landscape today.