David Moyes has been handed a six-year contract to take over the reigns at Manchester United, when Sir Alex Ferguson moves onto the board at the end of the season.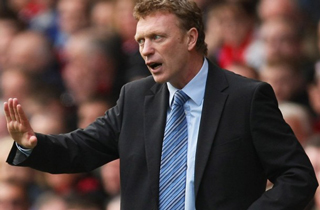 The timing is too perfect to be a coincidence. Sir Alex Ferguson calls time on a 26-year career at exactly the same time that David Moyes' contract expires over at Goodison Park. He's British and has spent 11-years at Everton. Two important attributes for the powers to be that have created a dynasty at Manchester United in the past quarter of a century. This is no coincidence. This was a foregone conclusion before the season had even started.
When Ferguson announced his plans to retire, just a few days ago, the bookmakers were quick to push Moyes into the position as favorite. As we know they rarely get it wrong, and they weren't about to start in the betting for the next Manchester United manager. Amongst the Old Trafford faithful, the name of Moyes had been mentioned frequently throughout the years, more to do with the praise that Ferguson often lauded upon him than his actual ability to haul in the silverware. In fact, during his time at Everton Moyes has won sweet F.A, but that didn't stop Ferguson from trying to appoint him as his number two several years ago.
When Real Madrid crumbled at the hands of Borussia Dortmund in the Champions League semi-final, it left room for Jose Mourinho to find a new club. For many he was a shoe-in for the soon to be vacant role at his former club Chelsea, but his talent and ability to win the top prizes led the bookmakers to push him in just behind Moyes in the betting for the position at United. When Manchester United set their annual goals it's very simple. The plan is to win everything and anything less is seen as a failure. This is where Mourinho would have been a good fit. The man has won the Champions League with both Porto and Inter Milan, and has won every domestic honor in England during his tenure at Chelsea. When you compare that with the sawdust gathering in the Everton trophy cabinet you can see the case for fresh fish instead of boiled haggis.
Ferguson may be vacating the hot seat but his hold on this football club is second only to Sir Bobby Charlton. When it came to announcement of his successor you can't help but feel that Ferguson had the final say in the matter.
Whilst he may nod in approval at the achievements of Mourinho, it's no secret that he doesn't particularly like the man and how he conducts himself. When Ferguson looks at Moyes, he no doubt sees a younger version of himself; a doe-eyed Scotsman who left one emerging club to take over the fortunes of one of the biggest clubs in the world.