Phil Ivey, the most successful player in the history of the game of poker, is once again in the judicial spotlight after filing a $12.1 million lawsuit against Crockford's Casino in London.
"I am deeply saddened that Crockford's has left me no alternative but to proceed with legal action," he said in a statement issued by his legal representatives.
The disagreement surfaced after a balmy few nights in August, of last year, when Ivey took Crockford's to the cleaners whilst playing High Stakes Punto Banco. The nine-time World Series of Poker (WSOP) bracelet winner spent a couple of nights in August at the club that is operated by the Malaysian gaming giant Genting. It is reported that he had a young lady on his arm as he proceeded to lose up to £500,000 playing High Stakes Punto Banco. In a bid to get of that very deep hole, Crockford's representatives agreed to allow Ivey to continue playing for £150,000 per hand; a decision that would prove costly as Ivey turned that £500,000 deficit into a profit of £7.8 million in just seven hours on game time. Crockford's withheld Ivey's winnings and started an internal investigation, but so far Crockford's are refusing to report exactly what they are investigating. If they are simply dumbfounded that anyone can win £7.8 million then they obviously have never met Phil Ivey before.
"Over the years I have won and lost substantial sums at Crockford's and I have always honored my commitments. At the time, I was given a receipt for my winnings but Crockford's subsequently withheld payment. I therefore feel I have no alternative but to take legal action," said Ivey.
Chris Reslock the World Series of Poker Circuit (WSOPC) Record Breaker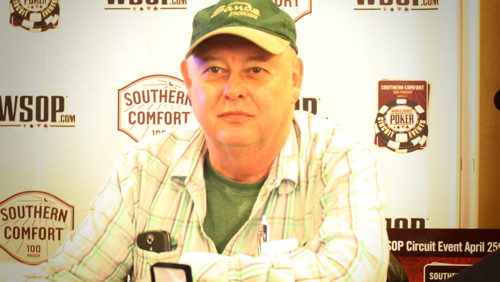 Chris Reslock has set a new record for the WSOPC by collecting his sixth and seventh golden ring at Harrah's in Philadelphia this week. The victories take him above Alex Masek as the undisputed king of the WSOPC and it is a remarkable achievement for the 65-year old retired cab company boss.
Reslock, who is a regular on the Atlantic City circuit, earned his sixth ring when he won Event #6, the $580 buy-in event, for $18,200, and ring number seven came along just three days later when he bested the field in Event #11, the $365 buy-in for $8,820. His victories in Philly mean that Reslock has locked up his seat in the WSOP National Championships.
Dan Smith Leads Day 1A of EPT Monte Carlo
108-players turned up for Day 1A of the EPT Grand Final €10,000+€600 Main Event in Monte Carlo, 163-players shy of the number of players who took their seats this time last year proving that the pinch is being felt in the post Black Friday landscape.
That lowly figure means the EPT are going to have to find a further 557-players on Day 1B if they are going to match the field size that created a €1,350,000 first-prize for last years champion Mohsin Charania, but as Day 1B reaches it's sixth level the 440-players on the board mean it's going to fall woefully short.
Of the 108-players that started Day 1A there was a familiar face leading the pack at the end of the day when only 53-remained. Dan Smith, the 2012 Global Poker Index (GPI) Player of the Year, went on his amazing 2012 heater after winning three €5,000 side events at the Grand Final in Monte Carlo. It's a happy hunting ground for King Dan who finished on top with 136,500 chips.
Other notables joining Smith in the Day Two draw include Jake Cody and Freddy Deeb.
WPT Canadian Spring Championship Update
The PartyPoker sponsored WPT event being held in Montreal has reached its third day of action and the L.A Poker Classic champion Paul Klann is in the driving seat with 1,793,000 chips. Joining Klann in the third day of action is the recent World Series of Poker Asia Pacific (WSOP-APAC) bracelet winner Bryan Piccioli, WSOP bracelet winner Ronnie Bardah and WPT Champions Club member Ben Hamnett and Ravi Raghavan. Last years winner Jonathan Roy failed to make the cut, as did the current Player of the Year leader Matt Salsberg.
There is $438,607 at stake.
Comments