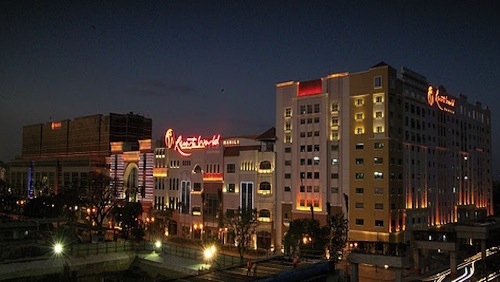 A few days after Melco Crown's Philippine subsidiary Melco Crown Resorts Corp, issued a $337 million private placement (at P14 a share) in the Philippines that ultimately netted the company what UBS Philippines managing director Lauro Baja III described as "six-times oversubscribed with 140 investors", a fellow Entertainment City investor  is looking to pull off a similar financing move with plans for an initial public offering in the Philippines.
According to IFR, Travellers International Hotel Group, the joint venture between Genting Hong Kong Ltd and Alliance Global Group Inc, has hired five banks for an IPO of $500 million with the company expected to go public sometime in the next few months. The five banks that were hired by Travellers to handle the offering, include UBS, Religare Capital Markets, Maybank, CIMB, and Bank of America Merrill Lynch.
The move to offer an IPO shouldn't comes as a surprise in large part because Travellers International is looking into multiple ways on how it will be able to fund its projects, a move that Melco Crown Resorts also pulled off to impressive results earlier in the week.
Travellers International is one of the four companies that are building an integrated resort at Pagcor's Entertainment City. The first of these casinos, Bloomberry Resorts' Solaire Manila, is already open for business. In addition to the two, Robinsons Land Corp is teaming up with Universal Entertainment subsidiary Tiger Resorts Leisure & Entertainment on the Manila Bay Resorts casino-hotel while Henry Sy's Belle Corporation is holding hands with the aforementioned Melco Crown Entertainment to operate the Belle Grande.