Nick Jivkov wins his third WSOPC gold ring in Iowa, Katie Dozier has the sickest online grinding set-up and Guillaume Darcourt ends his drought with a win on the French Riviera.
Nick Jivkov Wins WSOPC Ring Number Three
The ninth season of the World Series of Poker Circuit (WSOPC) has waltzed into the Horseshoe Council Bluffs Casino in Iowa, and Nick Jivkov has walked away with the first-event, making it his third gold ring victory since he set out on the live tournament grind back in 2008.
Jivkov, who also added a WSOP gold bracelet to his collection in the summer, defeated a field of 260-entrants to take home $19,110 and add 50-points towards the Casino Championship.
"It feels excellent. I couldn't be happier," Jivkov said. "To come here and take the title — my third ring — and to get back in the hunt for the seat in the National Championship feels awesome." Jivkov told the WSOP after his victory.
Jivkov's victory is the first in a '12 rings in 12 days' series that runs until the 22nd April, and it's one Jivkov thought was his before a card was even dealt.
"I felt that this was destiny for me," Jivkov said. "When we pulled in the parking lot my odometer read 33,333 miles and we walked in the hotel room at 3:33 a.m. I told my friend and my wife I thought it was some type of a sign because I was playing for my third ring."
Hotjenny314 Has The Sickest Set-Up
Katie "Hotjenny314" Dozier is one of five grinders that Team PokerStars Pros believe have the sickest online grind stations. The poker author, coach and writer has recently relocated to Rosarito in Mexico, with her husband Collin Moshman, and it was the view from her new gaff that earned her 50,000 FPPs.
You can view the best of the rest right here. But the best of all was missing from the final line up for obvious reasons.
Guillaume Darcourt Wins WPT National Series Cannes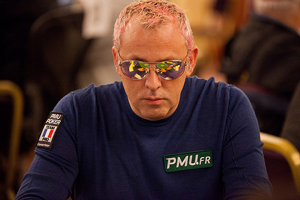 PMU sponsored, Guillaume Darcourt, has finally secured his first cash of 2013 after winning the PartyPoker WPT National Series Cannes at the Le Croisette Casino Barriere on the French Riviera.
It is a much-needed victory for a man who has been cashless since finishing in eighth place at WPT Mazagan back in Nov 2012. We recently interviewed Darcourt during WPT Barcelona and he was telling us how difficult it is to go on a barren run, especially when it took him away from his family for such long periods of time. Fortunately, his wife, Caroline Darcourt, was on hand to give her husband a great big kiss after the pink-haired Frenchman added a WPT National Series to the WPT Main Event he won in Bucharest back in 2010.