Ian Simpson wins the 2013 Irish Open and his girlfriend's hand in marriage, as he proposes soon after his victory.
Noel Furlong, Neil Channing, James Mitchell, Joe Beevers, Marty Smyth and Liam Flood are just a few names that have been elevated into the poker hierarchy after winning the oldest No Limit Hold'em competition outside of the World Series of Poker (WSOP) Main Event.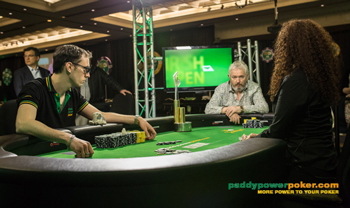 The Irish Open is a very special tournament, and one that needs the perfect blend of luck, and skill, to go all of the way. One can only imagine that Ian Simpson must have been carrying a rabbit foots, a four leaf clover and a horseshoe whilst staring at a shooting star; because in the past few years the Irish Open has been one hell of a lucky stomping ground for him.
In 2012, Simpson won his €3,200 Irish Open package through an online satellite on PaddyPower. Simpson went on to finish fourth in an event won by the Belgian powerhouse Kevin Vandersmissen. He took home €107,500 for that finish, but there was more. As the PaddyPower Sole Survivor (the longest lasting online qualifier), he also picked up €100,000 in cash and tournament packages including free entry into this years €2,000 Main Event.
Well he has only gone and done it again, except this time he has managed to eke out three more spots to win the whole god dam thing; and not only did it not cost him a penny, but Simpson was once again the PaddyPower Sole Survivor, meaning he was able to add a further €50,000 to his €265,000 winners check including qualification for the 2013 WSOP Main Event and the 2014 Irish Open.
Simpson took just three hands of heads-up play to eliminate Michael Farrell; the final hand coming on a flop of [Qd] [6c] [5s] when both players got it in on a draw. Simpson was holding [4d] [3d] for the open-ender and backdoor flush draw, and incredibly Farrell was ahead with [7d] [4s] for the open-ender and seven-high.
"Can you imagine if seven high wins the Irish Open?" Said Jesse May in commentary.
But the rather slender grasp of seven high just couldn't hold on to hand Farrell the title. Instead, a pair of glistening diamonds on the turn and river handed Simpson the victory.
But Simpson's evening was not over by a long shot. After needing diamonds on the turn and river, he needed just one more to make his evening the greatest of his life. No sooner had he shook his opponents hand, he turned around to his girlfriend Emma, got down on one knee and asked her to marry him.
Luckily, she said yes.