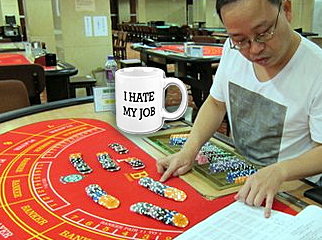 Casinos in Macau are reporting their strongest levels of VIP gambler growth in over a year. Last week, J.P. Morgan analyst Kenneth Fong estimated gross gaming revenue in March would come in at MOP 29.4b (US $3.67b), which would be a new monthly revenue record. Now, based on run rates over the week ending March 17, Fong suggests GGR could hit MOP 31.2b, which would represent a whopping 25% over March 2012, thanks to 15% to 20% growth in the VIP sector, "the strongest since the first quarter 2012."
Sterne Agee's David Bain, whose GGR predictions last week were below Fong's, now seems intent on outdoing Fong's optimism. Bain says the GGR run-rate through March 17 is up 32% to MOP 33.3b. As such, Bain has revised its year-on-year monthly growth estimate from 14% to 20%, with total GGR of MOP 30b, which would be 6% higher than the all-time monthly revenue tally set in December 2012. The enthusiasm appears universal: RBC Capital Markets' John Kempf says March growth will come in at 21% while Wells Fargo's Cameron McKnight puts the number between 19% and 24%.
Seems everybody in Macau's gaming industry has reason to smile, that is, unless you're a croupier. According to the Macau Employee Confidence and Satisfaction Index (MECSI) 2013 survey, croupiers are the least jolly of all employees working in Macau's gaming industry. The survey queried 1,026 employees on their job satisfaction and their overall confidence in their employment situation, the companies they work for and their general career development. All told, the confidence metric was down 0.3 basis points to 3.13 (out of five) while the satisfaction meter was down 0.3 basis points to 3.29. Both of these figures are within the survey's ranking of 'stable.'
Nearly a third (306) of respondents worked within Macau's gaming industry, and despite the happy faces on the casinos' balance sheets, casino employees recorded slightly lower results than their non-casino brethren on both the confidence and satisfaction levels (3.07 and 3.10 respectively for gaming employees, 3.15 and 3.37 for non-gaming). Peeling the casino worker onion a little more reveals that croupiers' average ratings were lowest of all (3.05 and 3.02). However, before anyone starts installing Foxconn-style suicide-prevention netting, it should be noted that when it comes to salary satisfaction, croupiers outscore even non-casino employees. So there… Dealing with gamblers can be a high-stress job, but the danger pay apparently makes up for occasionally being on the wrong end of the odd stream of profanities.
Comments