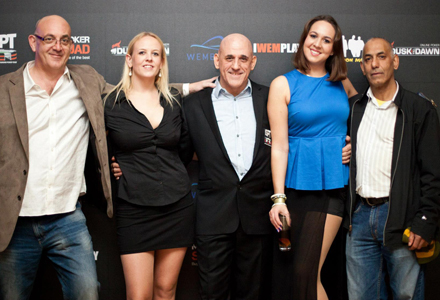 On the heels of the Dusk till Dawn (DTD) and Genting Partnership announcements, the team behind the revived and improved International Stadiums Poker Tour (ISPT) Wembley decided to have a little celebration.
Last Friday night at the Mayfair Hotel in Central London, Dusk Till Dawn hosted an ISPT launch party to promote the tournament and the DTD partnership as well as answer any questions of guests who attended, including myself.
The party was stocked with free drinks available at several open bars and on trays carried around by beautiful women, so unsurprisingly, the party was a hit.
I also had the pleasure listening to live music and a DJ, taking pictures in front of a media wall with Dusk till Dawn branded models, picking up a ISPT sweatshirt, trying some tasty fish 'n chips and observing poker players, their girlfriends and groupies all night long.
Regardless of all the complimentary perks of the party, one of the most appreciated features was the hospitality of host Simon Trumper, DTD Poker Director, who made the rounds, made sure his guests were taken care of and of course, picked up the tab.
When I asked Trumper why he decided to get involved with the once struggling ISPT he told me, "We have always wanted to do a bigger version of the Dusk Till Dawn Grand Prix and had looked at the NEC and Nottingham's ice arena, being offered the opportunity to use Wembley and have full control of the event with me appointed Tournament Director was too good to miss and we love the concept of a poker event in a stadium that should create interest in poker to a far wider audience than ever before".
I also asked Trumper what separates this poker tournament from all the others that are out there and his response was, "€1,000,000 for the winner and the option to buy in on day 2 for an average stack of 50,000 for €3000 and it is being held at Wembley Stadium, this may be the only time this ever happens so it should appeal to poker players and football fans who play at any level and fancy a shot at turning a €2 feeder into a €1,000,000 payday".
Sounds good to me and cheers to two stars here in the UK poker community for partnering with ISPT and guaranteeing a cool €1,000,000.
Comments