UPDATE: Checkout our CalvinAyre.com Facebook Page for more Bodog Network's APS Pictures!
The very first Bodog Network Anonymous Poker Series live qualifier kicked off with a bang last night in London and I was invited.  The venue? Bodog's centrally located penthouse level office in Oxford Circus. The vibe? Good, clean fun, just the way recreational poker players like it.
The main purpose of Bodog Network's year long series is essentially to showcase their unique product offering.  The recreational model that Bodog Network supports initially raised some eyebrows within the poker industry when it was first announced, however, now that the Network has been up and running for some time, not only has the perception in the poker world shifted from "WRONG!" to "OK, maybe they were right", to other operators and networks are now actually following suit.
To create the intimate, casual and fun atmosphere that our beloved recreational players live and love, Bodog Network made it happen live in London by entertaining seventeen poker players who were simply there to have a good time.   Entry was free, food and booze were provided and the prize was a $6,600 package – flight, accommodation and spending money for the winner plus a guest and a seat in the 100k final in Manila.
In attendance were players who had busted from the EPT day 1A, 1B and 2 of the Main Event, their friends, a few of Bodog's friends and Tatjana Pasalic's friends.
Pasalic, Bodog sponsored Poker Pro and CalvinAyre.com Poker Presenter, was also in attendance and shared with me during the night, "I loved the idea and was very pleasantly surprised with the outcome. It was nice to get away from the casino and enjoy a family-like atmosphere. Wish there were more events like this!"
I couldn't agree more and the best part of the evening was the mixing and mingling between poker enthusiasts who had some fun at the tables, took some pictures with masked models, enjoyed top shelf cocktails and lucked out with some on-the-fly side game prizes including a box of champagne, a Bodog chip set and a Phil Taylor signed dart board.  There was even an Ayr United shirt as a consolation prize for the first one out.
Poker player Jack Ellwood decided to attend last minute and ended up scoring a seat in the competition.  He tweeted from the event, "Turned up at a bodog party and ended up in a freeroll with a trip to Manila for the winner. I busted first which earned me an Ayr united kit".  Lucky git.
The beautiful Claire Renaut was crowed the winner of the tournament and went home with a trophy, a picture with four models and two tickets to Manila.  She was absolutely bubbling over with excitement when I spoke with her…and the champagne didn't hurt either.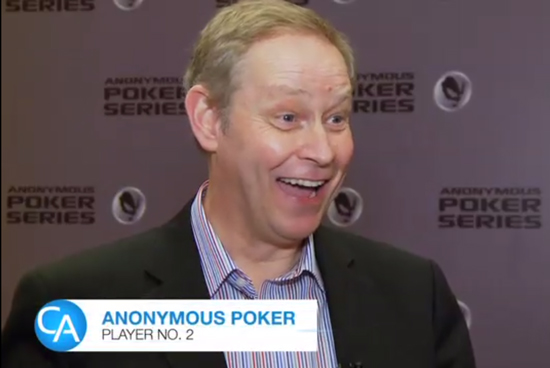 "It was a really great night, with tons of champagne, nice people, great atmosphere and I'm so happy I won it!  Especially considering that some serious sharks were playing… (this is the moment when I'm grateful there was an open bar [laughs])" Renaut said to me with a huge smile.  "But what I like the most is that when waking up this morning, I had no idea I would play this sit'n'go and, more importantly, no idea I would fly to Manila with Fabrice next year! Thanks again Bodog !"
Running at the same time as the London live event was the B2B live qualifier in Macau.  Taking home the trophy in the East was "Anonymous Poker Player No. 2" . Congratulations to Player No. 2, to Ms. Renaut and her boyfriend Fabrice Soulier who will be in Manila for the final in January 2014 and congratulations to Bodog for putting on yet another fantastic event- bring on the next one.