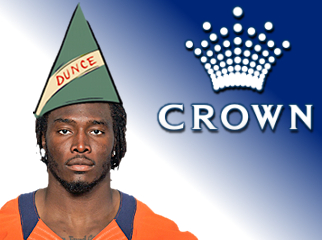 Quinton Carter, safety for the National Football League's Denver Broncos, was arrested Saturday night in Las Vegas after allegedly adding money to a craps bet after the dice were cast. The Denver Post reported that Carter (pictured right) has been charged with three felony counts of committing a fraudulent act in a gaming establishment, which carry a maximum sentence of six years in stripes and a $10k fine. Staff at the Texas Station casino in North Las Vegas told authorities that videotape showed Carter adding a $5 chip to three bets after the dice had been rolled. (Seriously, dude… $5? As the butler in Trading Places put it: 'Five dollars? Maybe I'll go the movies… by myself.") Hell of a gamble, considering it may end up costing Carter his lucrative NFL salary.
A far more ambitious casino scam has been uncovered at the Crown Casino in Melbourne, Australia. According to the Herald Sun, Crown has been taken for $32m by a high-roller who had one or more accomplices that tapped into the casino's video surveillance system. Speculation is that the gambler was fed information about the cards in play via a wireless transmission while he was at the table. The sum is believed to be the highest amount ever purloined from the casino in its 19 years of operation, and while Crown has yet to confirm the amount, a spokesperson said the casino believes it's "in a good position to recover a significant portion" of the thieved funds.
A Crown staffer who liaised with VIP gamblers has reportedly been sacked and a foreign VIP gambler was unceremoniously ousted from his comped digs at the Crown Towers several weeks ago after the chicanery came to light. The cheating was reportedly exposed over "eight hands of cards played in a short space of time," but it's unclear whether these eight hands were responsible for the entire $32m loss or whether it was during these hands that the surveillance team noticed something was amiss. A Crown spokesperson would say only that the casino's surveillance department "recently reported concerns over a sophisticated betting scam" and that Crown's investigation – in conjunction with police and Victorian gaming regulators – was ongoing.
Comments