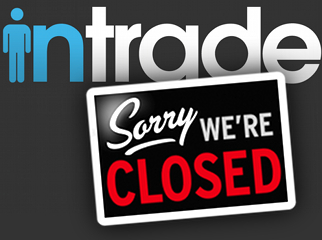 Dublin-based prediction market Intrade has shut down its operations, effective immediately. Customers visiting Intrade.com on Sunday found a notice on the homepage stating that "due to circumstances recently discovered we must immediately cease trading activity." These circumstances "may include financial irregularities" and require "immediate further investigation." Accordingly, to comply with Irish law, Intrade has agreed to cease all exchange trading, cease all banking transactions, settle all open positions and calculate the settled amount of all member accounts.
While the situation appears dire, the message from Intrade's board concludes by saying it is doing all it can "to resume operations as promptly as possible." Following an investigation over the upcoming weeks, Intrade says it will determine the necessary course of action. For the moment, customers can view their account balances but "it is not possible to make any payments to members … until the investigation is concluded." Telephone support and live help services have been disabled, so all customer queries will be handled via the [email protected] email.
The timing is ironic, given that it was just 10 days ago that Bloomberg Businessweek suggested the recent wave of states passing or pursuing online gambling legislation could allow Intrade to return to the US market. Intrade withdrew from the US market in November after the Commodity Futures Trading Commission (CFTC) filed a complaint against Intrade in federal court. The CFTC accused Intrade of operating an illegal commodities exchange, although Intrade was perhaps better known for its election betting markets, something the CFTC admitted was beyond its scope to police.
The US withdrawal appears to have sent Intrade into a death spiral. Intrade's number of unique visitors swooned from 287k in November to just 67k in December and online data tracking outfit ComScore reported Intrade's January numbers were too small to measure. Intrade's apparent demise serves as further evidence that while the US allows users from anywhere in the world to make use of US-based exchanges, foreign firms daren't reciprocate. Which is precisely how we see the future US online gambling market playing out. In this futures market, go long on hypocrisy.