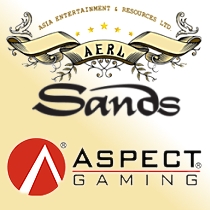 Macau-based junket operator Asia Entertainment & Resources Ltd. (AERL) is shifting its VIP room at the Venetian Macao to a new room at Sands Cotai Central. The new room will feature three gaming tables plus a private enclosure with one additional table. AERL chairman Lam Pou said the company was "very excited" about moving into Sands Cotai, which should "enhance our ability to better serve our existing customers and ultimately provide our shareholders with long-term value." Shareholders have no doubt questioned the value of their investment as AERL has seen rolling chip turnover fall for the better part of a year after tightening credit for its agents on the mainland. Analysts expect AERL to loosen the credit restrictions as the year progresses.
AERL's other VIP rooms are at Galaxy Entertainment's Star World Hotel & Casino downtown, as well as the Galaxy Macau and Melco Crown's City of Dreams, both of which are on the Cotai strip. The move to Sands Cotai Central may help reverse AERL's fortunes, as analysts have projected double-digit revenue growth for casinos on Cotai in 2013, while Macau's other casinos are tipped to grow single-digits. In the meantime, the NASDAQ-listed AERL is looking to raise $150m via a share sale.
READING MACAU'S FORTUNE IN CHINA'S TEA LEAVES
Macau's VIP market accounted for 69.3% of the enclave's Q4 revenue pie, only the second time in three years that figure has fallen below 70%. The analysts at Jefferies Group are dubious about VIP's willingness to boost their Macau outlay because the amount of money changing hands at art and antique auctions on the Chinese mainland has been falling, suggesting China's 1% are being conservative with their discretionary spending. But Sterne Agee's David Bain believes there's a "90% correlation" between Macau VIP gross gaming revenue and China's GDP performance dating back to Q1 2009. As such, Bain takes heart in January's HSBC China Purchasing Managers' Index, which reported the highest levels of manufacturing activity since January 2011. Check back in six months and we'll tell you which of these swamis got it right.
ASPECT GAMING BUYS LAS VEGAS GAME-MAKER
While gaming tables drive Macau's revenues, the appeal of slot machines and electronic gaming machines is "growing rapidly," according to Justin Nguyen, CEO of gaming device supplier Aspect Gaming (Macau) Ltd. To help ride this wave, Aspect has acquired Las Vegas-based casino games developer Longshot Interactive, whose proprietary baccarat variants will provide "the basis for the video poker of Asia," according to Nguyen. Longshot CEO Ameesh Patel said both companies believe the Asian market will come to be dominated by middle class gamblers, and the firms intend to cater to this sector via "culturally relevant and compelling content." Terms of the deal weren't disclosed, but Patel, and four other Longshot execs – Jeffrey Fine, Ofir Ventura, John Lin and Seth Schorr – will join Aspect's advisory board.