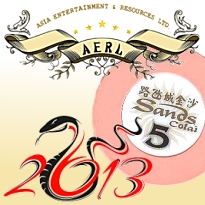 Customers of leading Asian hotel-booking site Agoda.com have identified Macau as having the region's eighth-best nightlife. The survey's results, drawn from 113k responses from customers at the end of their trips, picked Bangkok as the king of the nighttime world, followed by Dubai, Boracay/Caticlan in the Philippines, Thailand's Pattaya, Tokyo, Phuket and Hong Kong. Macau's top-10 spot came courtesy of its "vibrant architecture and Portuguese/Chinese cuisine." Oh, and they may have mentioned something about casinos…
The unknown long-term effects of Macau's new smoking ban notwithstanding, analysts are predicting great things for Macau in the Year of the Snake (which begins Feb. 10). Deutsche Bank AG's Karen Tang said much of this growth will come from the mass market segment, in part because of improving transportation infrastructure connecting Macau with areas of China beyond neighboring Guangdong province. This shift was already well underway last year, demonstrated by the number of mainland visitors from outside Guangdong rising from 27% in early 2011 to 36% by November 2012. Tang says visitors from further afield tend to spend HK $15,700 (US $2,025) during their visits, more than twice the sums spent by Guangdong residents and nearly triple that spent by visitors from Hong Kong.
Tang also theorized that more visitors from afar would mean more overnight stays, which should boost the fortunes of those casinos with four- and five-star hotel accommodations. That will tilt the revenue benefits to casino concessionaires with newer operations already up and running on the Cotai Strip. Tang anticipates venues like Las Vegas Sands' Sands Cotai Central and Melco Crown's City of Dreams will experience growth in the 26% to 30% range, while operators on the peninsula will settle for single-digit growth.
Sands Cotai and City of Dreams also benefit from having the most 'premium mass' tables, which carry minimum bet limits similar to lower-end VIP tables, but which operate on a purely cash basis (no junket commissions). Deutsche Bank's data suggests the average mass market minimum bet in Macau's 'big seven' casinos rose from HK$1,236 (US $159) in June to HK$1,370 (US $177) in November. Tang expects the VIP gambling sector to witness 5% growth this year (up from 0% last year) while mass revenue will grow 25% (compared to 22% in 2012). Deutsche Bank has also raised its growth expectations for Macau's overall market from 8% to 11%. Rival analysts at UBS predict 12% overall growth in 2013, with VIP revenue set to rise 8% and mass market up 22%.
Junket operator Asia Entertainment & Resources Ltd. (AERL) can only hope the Snake bites them a lot less than the Dragon did. After months of revenue declines, the NASDAQ-listed AERL closed out the year with rolling chip volume down 26% in December. Total turnover in 2012 fell 9% year-on-year to 145.8b patacas (US $18.2b), while JP Morgan estimates tthe overall Macau VIP market grew 6.2% over the same period. Rolling chip volume isn't equivalent to revenue, and AERL has yet to publish its year-end results. But Macau Business Daily reports that AERL has filed papers in New York to enable it to sell $150m worth of shares in the company. No underwriter has been identified as being tasked with handling the transaction, and the filing indicated AERL may choose to sell shares directly, suggesting the company is looking to pinch every penny.