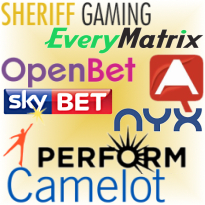 Just days after National Lottery operator Camelot learned it had won its bid to manage the Pennsylvania Lottery, Camelot has announced National Lottery tickets will double in price. Starting this fall, it will cost £2 to play; the first price hike since 1994. The prize for matching three numbers is rising from £10 to £25, and four numbers will now get you £100 instead of £60. However, the prize for matching five numbers has been cut by a third to £1k, while five numbers plus bonus has been halved to £50k. The average Sunday jackpot will rise from £4.1m to £5m, and Wednesday's big whoop goes from £2.2m to £2.5m. Despite the plethora of gaming options, 60% of UK adults play the Lotto, and overall UK lottery sales have gone up 35% over the past decade.
Online gambling platform provider AliQuantum Gaming (AQG) will add NYX Interactive's Open Gaming System (OGS) titles to its suite of gaming options. David Flynn, CEO of the Stockholm-based NYX is stoked to provide Flash and mobile casino games to the Malta-licensed AQG. Flynn says he's "delighted" to be joined at AQG's hip, while AQG CEO Andy Jones called it an "obvious" hookup that had left his clients "extremely pleased with the new content."
UK operator Sky Bet has renewed its technology deal with OpenBet for another three years. The relationship dates back to 2003 and OpenBet will go on supplying Sky Bet, Sky Vegas and Sky Poker with online sportsbook, casino and poker technology – software, content, support and maintenance – until 2016. Sky Betting and Gaming managing director Richard Flint says OpenBet played a "massive role" in their success and OpenBet CEO David Loveday says his company has "enjoyed being an integral part" of Sky Bet's growth.
Platform provider Everymatrix has burnished its portfolio via a distribution deal with Eindhoven-based 3D gaming developer Sheriff Gaming. EveryMatrix licensees will soon be immersed in popular Sheriff titles like The Amsterdam Masterplan, Gold Raider and the Mega Money Pool jackpot games. Sheriff spokesperson Eric Roskamp called the deal a "great coup" and EveryMatrix marketing director Nick Hill said Sheriff's games had a "fantastic movie-like quality to them."
UK digital sports media outfit Perform Group has inked an ad partnership with developer motain Gmbh. The deal comes via mediasports, Perform's Hamburg-based advertising subsidiary, which will exclusively represent media sales for motain's THE Football App (2.5m monthly active users). Perform Deutschland managing director Manual Lopez called the deal a "key stepping stone" in its strategy to boost its presence in Germany's mobile market and beyond. Motain managing director Lucas Cranach called Perform an "ideal partner for our national and international ad-space commercialization."