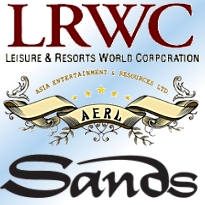 Junket operator Asia Entertainment & Resources Ltd. (AERL) didn't share in the unexpectedly steep revenue growth Macau enjoyed in October. AERL reported rolling chip turnover fell 31% year-on-year to $1.47b, but that was mitigated somewhat by a higher than average win rate of 4.25% (normalized win rate is between 2.85% and 3%). The company attributes much of the turnover decline to its self-imposed tightening of credit this summer in response to China's slowing economy. For the first 10 months of 2012, AERL's rolling chip turnover was $15.57b, down 5.5% from 2011, despite Macau's overall gross gaming revenue rising 13.5% over the same period. This marks the second month since AERL converted all its Macau VIP rooms to a revenue sharing remuneration model rather than a fixed commission basis.
On Thursday's post-earnings call with analysts, Las Vegas Sands executives shed a little more light on their Asian expansion plans. Sands President/COO Michael Leven said the company expects Japan to submit its long-awaited casino legislation to the Diet in April, which will be followed by a year or two of license-issuing and blueprint-approving before shovels can hit the dirt. Leven says Sands is "looking at sites in both Osaka and Tokyo … we have people hired on the ground, working on our behalf." In South Korea, Sands is eyeing Seoul and Busan as "attractive sites," but Leven insists it's "a must that we have some kind of local play available to us." Leven envisions a Singapore-style limitation on locals entering the casinos, rather than the total ban on locals Korea imposes on 16 of its 17 existing casinos. Sands is looking at Taiwan, but has no interest in the Matsu Islands, preferring something on the mainland, although Leven admits "we haven't made much progress there." Sands holds a similar view in Vietnam, preferring a casino in Hanoi or Ho Chi Minh City rather than the government's preference for an isolated enclave on the coast, and Leven admits "there's a longer way to go [in Vietnam] at the present time than in the other areas."
Manila-listed Leisure & Resorts World Corp. (LRWC) will maintain an equity stake in the Belle Grande Manila Bay casino project (part of the Entertainment City development being erected in the Philippine capital city). LRWC had been brought on board the Belle Grande project by Belle Corp., which tasked LRWC with handling casino management services. But LRWC's continued involvement was the subject of some debate following last month's confirmation of the joint venture agreement Belle Corp. signed with Melco Crown Entertainment. In its press release, Melco Crown stated it would serve as the "sole and exclusive representative of the licensees in connection with … operation and management of the project." Business Daily has since reported that LRWC will pay PHP 4b (US $97m) to maintain an equity stake in Belle Grande.